High-Speed Flash for Dynamic Photos | Tutorial
[tps_header]What could be better than kayaking down a crystal-clear river on a hot summer day in the mountains? Photographing it! Whitewater kayaking is an adrenaline-soaked sport loaded with action. Photographing whitewater kayaking requires fast shutter speeds, quick focus, and lots of frames to produce one good image. One approach is to use available light and blaze away. This can work well, but on sunny days, contrast can be a problem. I decided to go for a more stylized approach, and get in close and personal for the image. I wanted viewers to feel like they were in the waves with the kayaker. The solution? High-Speed Flash.
[/tps_header]
Step 
One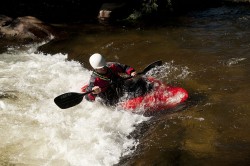 Here is the scene I found at a local kayaking spot near my house. I had a warm sunny day, which made great kayaking conditions but terrible photo conditions. The high overhead sun was backlighting the kayaker and adding lots of contrast. But I did have some things going in my favor: The kayaker was a friend and an expert paddler—he could do anything I asked him to do in the kayak; the location was perfect for me to get in the water close to the action; I had brought my underwater camera housing so I could shoot under the waves; and if I did get swept away in the current, downriver was safe for swimming. In a perfect world, I wouldn't go for a swim. But the day was not perfect.