On Location: Create a Vintage Surfer Portrait on the Beach
[tps_header]"You're on island time, Man. Relax and be cool." I heard this statement in various iterations recently while I snorkeled, kayaked, and surfed my way through the lush, tropical Virgin Islands. I went there with friends, shooting a few stories, and relaxing and being happy.
I wanted to create a portrait that illustrates this Caribbean island vibe, and I met the perfect subject working at a local surf shop, Stray. Stray (no kidding, that's the name, no one knows his real name) lives to surf, and is the most mellow, nicest guy you'll ever meet. I brought minimal lighting gear (for me at least) with me on this trip: three SB-900 Speedlights, one SU-800 transmitter, and one Lastolite TriGrip diffuser. Minimalist lighting gear works great. Remember, it's not the gear that makes the shot, it's the photographer. Get creative! 
[/tps_header]
Step One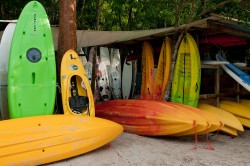 I'll admit when I was packing for this trip, I really wanted to shoot a portrait in the water. I had my underwater housing for my Nikon camera and flash. But Mother Nature had something else in store for me—big surf crashing on the beach. One important trait to have as a photographer is the ability to adapt to changing situations. Since getting pummeled in the surf with flash gear didn't sound like a good idea, I went to Plan B for the location. Behind the surf shop was a bunch of kayaks, surfboards, and windsurfers, all perfect props for a shot of Stray hanging out at the beach. Better yet, this location offered a little privacy from the tourists walking down the beach. Since Stray was a shy guy, I didn't want a bunch of onlookers causing him to cringe while I worked on the shot. I needed a relaxed, mellow pose to capture the island vibe.