WPPI Attendees! Grab a Seat with us TODAY at the KelbyOne Theater
Hey Everybody!
If you're at WPPI and want to keep your creative juices flowing during the expo swing by the KelbyOne theater and get your bonus learn on!
Thanks to Canon and KelbyOne, we have over 15 instructors teaching during the expo hours of WPPI 2015 at the MGM Grand in Las Vegas,NV.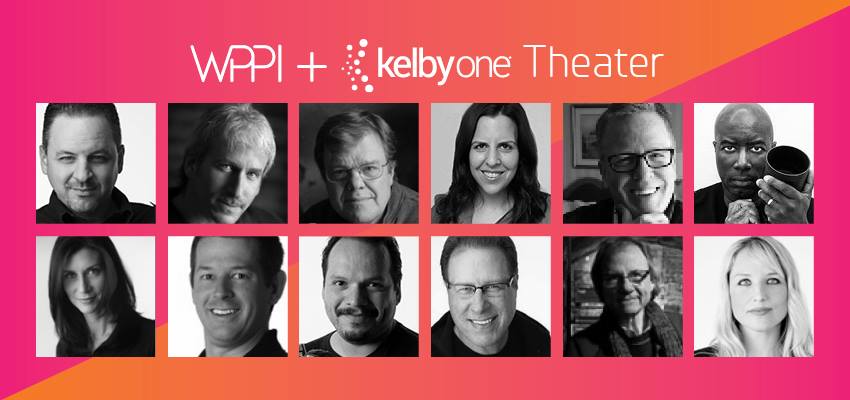 We have an updated schedule of who's teaching at our KelbyOne Theater and there are new additions! We would like to welcome Canon Explorer's of Light Lou Freeman, George Lepp, Ken Sklute, Hanson Fong, Eddie Tapp, and Bruce Dorn.
Here's the new schedule:
10:30a- Scott Kelby –Photo Retouching Secrets for Photographers
11:30a- Pete Collins –Creating Presets and Templates Using Lightroom & Photoshop
12:30p- Cliff Mautner — Flash Made Simple
1:30p- Kevin T. Gilbert –All The Pictures of Your Life – With You All the Time (Mylio)
2:00p- Mia McCormick –Gopro for Events
2:30p- RC Concepcion –Organize your photos in Lightroom
3:30p- Joe McNally –The Light and Life
10:30a- Tamara Lackey –Photographing Fast-Moving Subjects
11:30a- Lou Freeman –Creative Lighting
12:00p- Cliff Mautner –Creating Texture, Dimension and Mood
12:45p- Matthew Jordan Smith –Putting Passion Into Your Personal Work (Mylio)
1:30p- Keren Sachs –How to Make the Most from Your Archive: Dust off Your Collection and Start Generating Income From Your Images (Shutterstock)
2:00p- George Lepp
2:30p- Corey Barker –Fantasy Light Effects in Photoshop
10:30a- Kevin T. Gilbert –A Picture is Worthless If You Can't Find It (Mylio)
11:00a- Ken Sklute
11:30a- Corey Barker –Creating Digital Makeup Effects in Photoshop
12:30p- Tony Corbell –Lighting Techniques to Create Dimension
1:00p- Hanson Fong
1:30p- Eddie Tapp
2:00p- Bruce Dorn
Did you miss your favorite instructor/topic? Be sure to check out KelbyOne for all of your online training needs 24 hours a day, 7 days a week!