Video Title Sequence in Photoshop in 10 Steps
I'm a very big fan of the video features that are embedded in Photoshop.  The features hark all the way back to Photoshop CS6 – yet to this day tend to be one of those 'hush hush' features that few know about.
In fact – not only can you edit some basic video inside of Photoshop, you can add some title sequences to go with it using text layers.
I'll take you through it in 10 steps – promise!
STEP ONE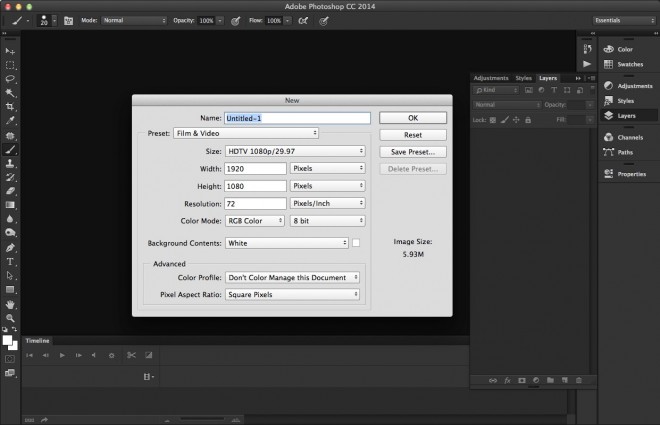 Create a new document in Photoshop using the Film & Video presets drop down. This will give you a HDTB 1080P video option with 30 frames per second.  Great for that high def footage that you'll want to work with.
STEP TWO

The bottom of the Photoshop window will have a Timeline panel.  At the center of it, there is a 'Create Video Timeline" button.  Click on it, and it will turn on the Timeline area, letting you add some video.
STEP THREE

Now, you see that Layer 0 area?  thats going to be the background for the titles.  You can drag the handles to the right and left of it to extend the amount of time that you will have in this video.
STEP FOUR

Since you want to keep this Layer as a background, you're going to want to create a video group.  To the right of the filmstrip icon in "Layer 0" – click on the drop down and select New Video Group from the list.
STEP FIVE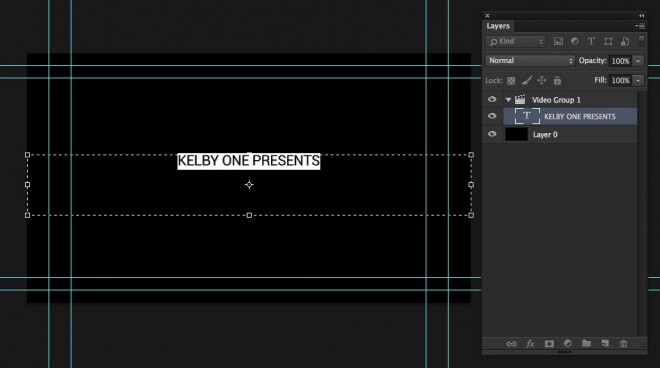 Once your group is selected, you can start adding text layers.  I would make sure that the text layer box stretches to the edge of the document, and that the text is centered.  This will let you duplicate the titles as necessary. At this point, whatever type and treatments you want to do here are entirely up to you.
STEP SIX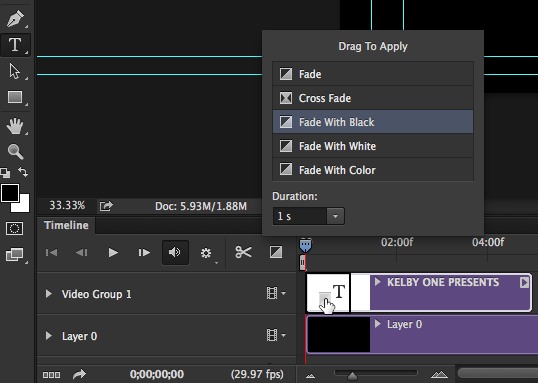 Once the title sequences are set, you're going to want to apply some effects to them.  In the Timeline panel, you have an effects icon to the right of the scissors.  Click on that and you will see 5 effects to choose from.  For this case, I'll select Fade With Black and drag it on top of the text layer we are working on.
STEP SEVEN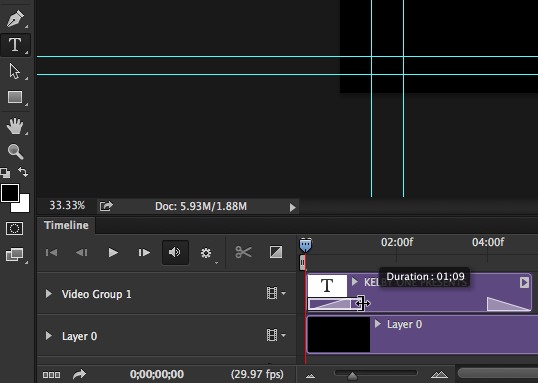 You can always go in and adjust the individual duration of the effects.  Just click on the effect icons right in the timeline and drag to adjust them.
STEP EIGHT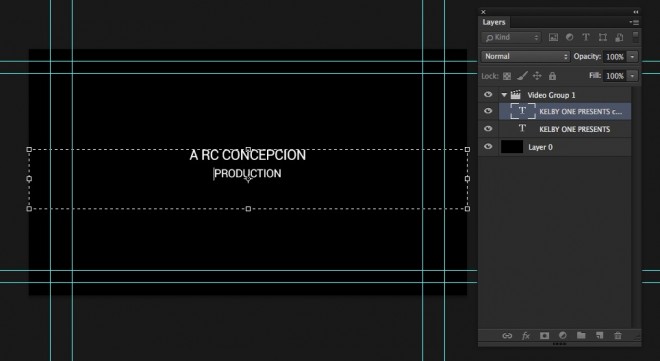 Instead of creating another text layer as I need it, I find it a lot easier to just duplicate the text layer I have there by hitting Command-J (PC: Control J).  At that point, all of the effects you have on the layer are copied as well.  All you need to do here is change what each of the layers say.
STEP NINE

Once this is complete, you can click on the drop down arrow to the right of the filmstrip to Add Media.  This will place the media right in the same timeline that you have your titles in.
You can also keep it separate by creating another Video Group and adding the media there.  This would make it a bit easier if you want to add more text layers or change them around.
STEP TEN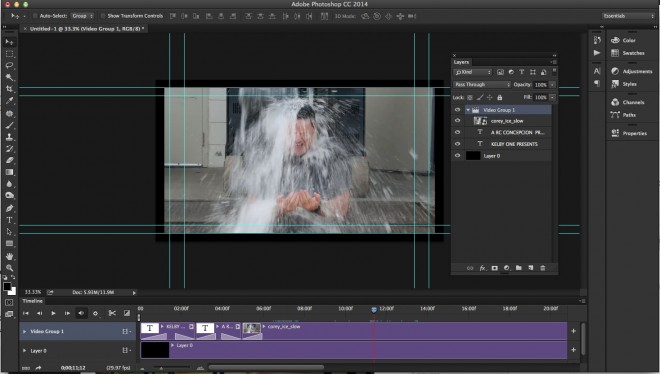 From there you would just add additional video clips as needed.  Smooth sailing from here!
Editor's Note: Want to know more from RC? Follow him on Photography Tips & Tricks or if you want more on video, then check out this Grid episode or this KelbyOne course on Processing Video with Photoshop CS6.