IWMF Awards Photojournalism Award to Heidi Levine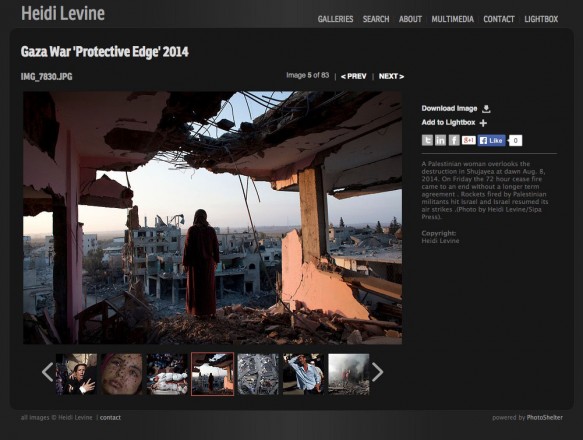 The International Women's Media Foundation in Washington will present three awards this year in the inaugural presentation of the Anja Niedringhaus Courage in Photojournalism Award. The winner of the award, Heidi Levine, is an American based in Israel. She has been covering war zones and revolutions for over 30 years. Women who receive the award have a body of work that demonstrates courage as they risk their lives documenting the conflict of war and the human aspect contained within those violent zones.  The Howard G. Buffett Foundation provided the funding for the $20,000 prize. Heidi Levine will be presented with the award in Berlin on June 25, 2015.
Heidi Levine's work was noted for it's "courage and compassion in capturing images under dangerous circumstances." She has made a career out of working in war zones with her images appearing in publications around the world. Additionally, honorable mentions will be bestowed upon Anastasia Vlasova, for her images of the conflict in Eastern Ukraine and to Rebecca Blackwell for her courage capturing image in the Central African Republic.
Follow the Anja Niedringhaus Courage in Photojournalism Award on social media via #AnjasCourage
For more on this story – check out the full details here.
See more of Heidi Levine's work at PhotoShelter
Image Copyright: Heidi Levine
A Palestinian woman overlooks the destruction in Shujayea at dawn Aug. 8, 2014. On Friday the 72 hour cease fire came to an end without a longer term agreement . Rockets fired by Palestinian militants hit Israel and Israel resumed its air strikes.
Enjoy this? Then you need to check out the Trailblazer Series we have on KelbyOne. Here is a link to our most recent one about Elsa Garrison who has developed her career capturing sports action. She's covered everything from the NFL to the Olympics.