Autodesk Stitcher Unlimited 2009
This review originally appeared in the March 2009 issue of Photoshop User magazine.
PHOTO-STITCHING SOFTWARE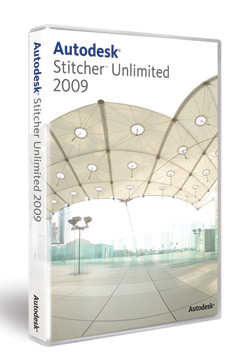 Autodesk Stitcher Unlimited 2009 is photo-stitching software for producing panoramas and more. I've made hundreds of panoramas using the Photoshop Photomerge feature and have been happy with the results, so my main questions are: Will Stitcher Unlimited "play well" with Photoshop, and is it worth the extra money?
Stitcher uses a photo-stitching engine that stitches, aligns, and color-corrects automatically, and it's easy to use their five-step process to create a panorama. The acid test of their alignment feature (where most stitching programs fail) was some handheld photos I took of the Golden Gate Bridge with all its suspension cables. The resulting panorama was seamless; every cable between the individual photos matched.
Another Stitcher feature I like is Double Shot, where you can stitch together two fish-eye lens shots into a single panorama. And Stitcher Unlimited even allows you to make panoramas using HDR images. (I didn't test this last feature…I will as soon as I successfully make my first HDR image. Hope springs eternal!)
So how does it work with Photoshop? You can import and export an image from Photoshop (it supports PSD files, images, and masks), and Stitcher can create a panorama in PSD format that contains separate layers for each individual image.
All of the professional tools are also included, allowing you to create environment maps for 3D rendering and Web-based virtual tours using the Apple QuickTime, Adobe Flash, or Java-based viewers.
The Autodesk Stitcher Unlimited 2009 is a lot cheaper than the cost of a digital panoramic camera and you can download a fully functional 15-day trial version from their website. Stitcher is a professional tool that produces stunning panoramas. If you're serious about making panoramas, try Stitcher Unlimited. You'll be impressed. —Dave Huss
Company: Autodesk, Inc.
Price: $350
Web: http://usa.autodesk.com
Rating: 5
Phone: 800-964-6432
Platform: Mac and Windows