Think Tank Photo's Airport Security V2.0 Rolling Camera Bag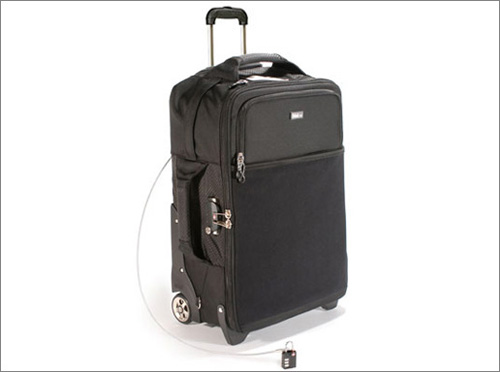 I've been blogging about the fact that I can't find a camera bag that works for me when shooting sports. In fact, many of you who are pro sports shooters have come up with suggestions. After my last trip to Birmingham to shoot the Indy Test Weekend (where I had to leave my laptop at home due to carry-on restrictions), I was so cranked I finally had to make a move and find a solution.
THE PROBLEM
My problem is that I have to have three carry-ons, and of course the airlines will only allow two. My carry-ons are:
My camera bag (with two bodies, my smaller lenses, battery chargers, etc.)
The large lens case for my 200-400mm Nikon lens
My laptop case (with powercord and other accessories).
MY DREAM
Ideally, one bag that would hold my 200-400 lens, 2 bodies, all my other lenses and accessories, my laptop and power cord; it has to be a rolling bag (and not be a backpack) and it has to fit in the overhead compartment fairly easily.
THE SOLUTION?
The last time I talked about this problem, a number of kind folks had suggested that I look at Think Tank Photo's Airport Security V2.0 rolling camera bag, and since I've become a total "Think Tank Freak" recently, I went to their site first, and looked at it, and I saw there was an option for "lower dividers" which allow you to store your 15″ laptop right on top. That was it—-I ordered it right then and there (along with the optional 15″ laptop case and the lower dividers). It's shown at the top of this post (photo courtesy of Think Tank Photo).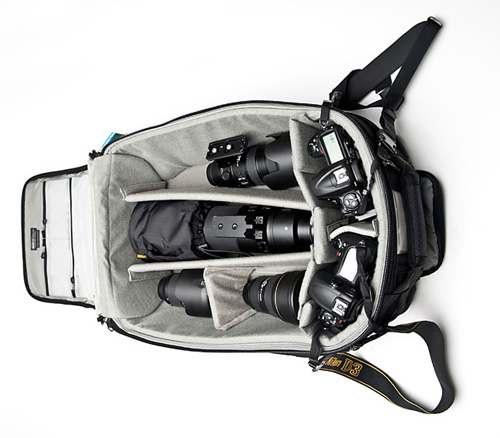 Above: Here's my bag with a 200-400mm lens, 2 bodies, a 24-70mm lens, a 14-24mm lens, a 70-200mm lens, and there's still room to spare. (photo by Brad Moore).
MY DREAM HAS COME TRUE!
I got the bag two days ago; my photography assistant Brad configured it today for my gear, and my friends, this bag is it! It's the one. I'm in love!
This bag has more room than I would have imagined, and more storage compartments than I'll probably ever need (but I love that!). It looks and feels so well built, and it's so flexible in how you set up the interior. I am just so psyched—now I'm down from three carry-ons to just one, and just like that my problem is solved.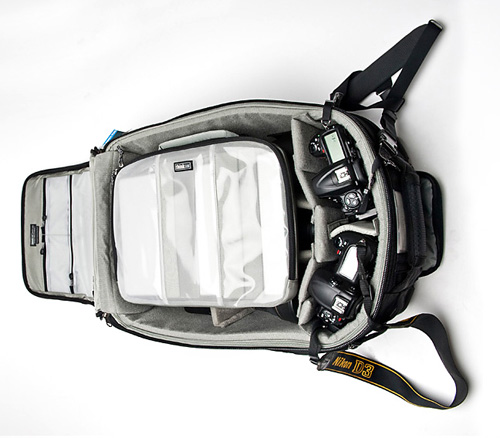 Above: Here's my new bag with the optional 15″ laptop bag on top (photo by Brad Moore).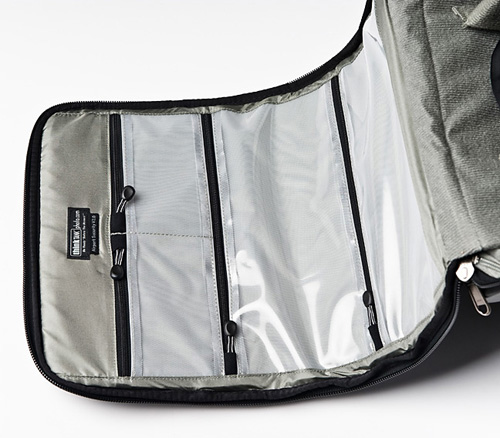 Above: Storage pockets in the top flap (Photo by Brad Moore).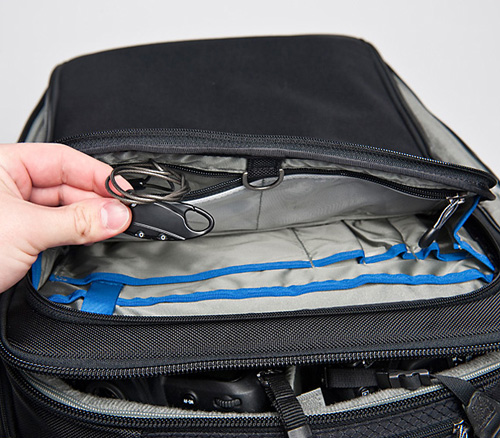 Above: More storage compartments in the front. (Photo by Brad Moore)

PROS:
It's got loads of room, despite the fact that it's carrying a huge lens right in the middle. All the pockets and storage are really welcome, as is the security cable and lock, so it doesn't walk off at the airport while you're checking your email. It also comes with a tripod/monopod holder, which is really important when carrying long glass. It's really well-built; the wheels are solid (and replaceable), everything has a great fit and finish, and finally all my stuff fits in one bag, and I'm not checking anything other than my clothes. It also has a stretchy front pocket which will hold up to a 17″ laptop. It also comes with a TSA-approved combination lock, and a lock for your laptop as well in the front. The entire bag seems very well thought out, very intelligently designed, and it has lots of little features that make you smile.
CONS:
Because the handles slide down inside the bag (like many rollers), parts of the inside "floor" are raised, which does tend to limit where you can put things like camera bodies standing straight up (especially if you have an L-bracket attached). Also, this raised area creates kind of a "groove" (for lack of a better term) along either side, which is great for lying your lenses down, but this also kind of makes it a little wonky when storing them "on end." They will store that way, but the grooves make it feel more natural to lie them down. Lastly, the laptop case is very thin (I guess it has to be to fit), so you have to store your laptop's power cord in the main bag—not within the laptop case itself. Pretty minor stuff, but I thought they bared mentioning. This isn't minor; the price. At $369 (US), it's kind of pricey, but for what it does, and how it's made, at least you feel like you're getting your money's worth.
THE BOTTOM LINE
I have finally found the bag I've been dreaming of. Nitpicking aside, this is exactly what I was hoping this bag would be. In fact, it's actually better than I was hoping, and I am just tickled pink that it is working out so well. My only regret is that I didn't listen to those folks who turned me onto this bag sooner. My hat's off to Think Tank Photo. Between their belt system, and this Airport Security roller, I have become a big time Think Tank believer!
Here's the link to Think Tank's website for more details.