Understanding High-Speed Sync and HyperSync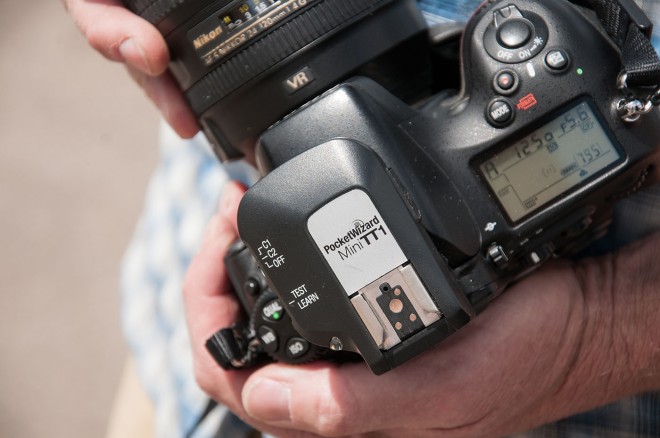 Recently, I was critiquing a workshop participant's image, and he had encountered a classic portrait dilemma. His lighting on the model looked fine, but the background was way too busy. Using studio strobes, he shot at f/16 at 1/125 in midday sun to get the correct daylight exposure. Since he was shooting at f/16, everything was sharp, including distracting background elements.
I mentioned he should use HyperSync and shoot at 1/4000 at f/2.8 to create a nice, soft bokeh in the background. His reply was, "How does high-speed sync work with studio strobes?" The answer, and a source of confusion among some photographers, is that HyperSync doesn't work with TTL flash, but high-speed sync (HSS) does. These sync methods are different technologies, although they accomplish the same result. Let's look at these techniques and how they help the photographer.
Step One 
First up for this shoot was finding a location with an interesting background and a model to match. Dayna, a local model, was excited to pose for the images, and a local auto repair center was fine with us shooting against their blue bay doors. 
I was going to use a single light source for the images, but with two different sets of flash gear. My first option was an Elinchrom Ranger with S Head and a 53″ Midi Octa Light Bank. To fire the Ranger, I would use both standard Skyport and PocketWizard transmitters. Second, I would rely on SB-900 Speedlights and an SU-800 transmitter with an Elinchrom 33″ umbrella for a different lighting source. I used one standard 11′ Manfrotto light stand to hold the lights in both scenarios.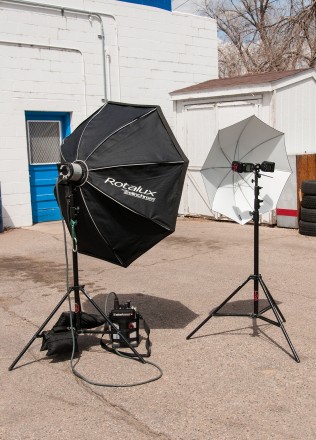 Step Two
To start this photo session, I used my Elinchrom Ranger and Octa Light Bank. Since I was shooting in bright, overhead sun, I needed to set my exposure to f/16 at 1/200 to expose for the daylight. I normally underexpose my daylight 1/2 to 1 stop for outside portraits. A lit subject on an underexposed background pops out of the scene. I used an Elinchrom Skyport transmitter to trigger the flash, and everything looked good. Or did it? 
I wanted to blur the background, and for that I needed a different flash technique. To trigger my Ranger pack at sync speeds faster than 1/200, I needed to use HyperSync. Many photographers think shooting at fast sync speeds is about freezing the action. This can be true, but I use it more to shoot wide open like f/4 on bright sunny days.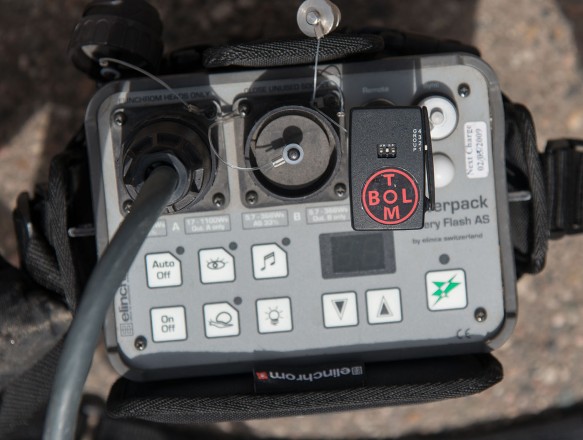 Step Three
To shoot at f/4 in bright sun, I needed a shutter speed of 1/2000. HyperSync is PocketWizard technology that uses their transmitters with flash packs and recalibrates the sync timing. Instead of firing at the initial flash burst, HyperSync can time the shutter release with the "tail" of the flash, allowing sync speeds of 1/1000 and faster. HyperSync performance varies depending on what flash pack and camera system you're using. To set up my Elinchrom Ranger for HyperSync, I needed to use the slower Free Lite S Head. The slower flash duration of this head allows faster shutter speeds to be used with HyperSync.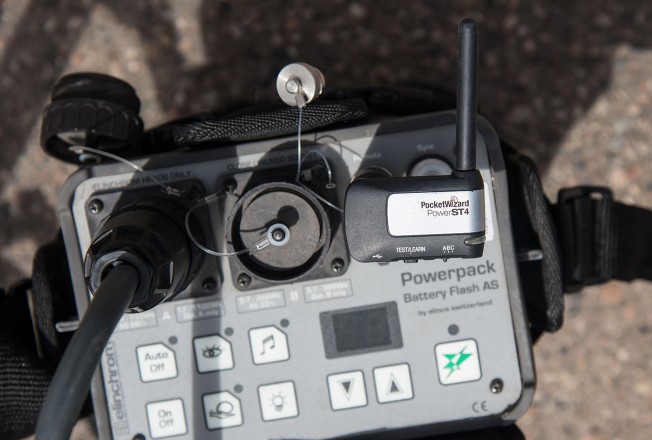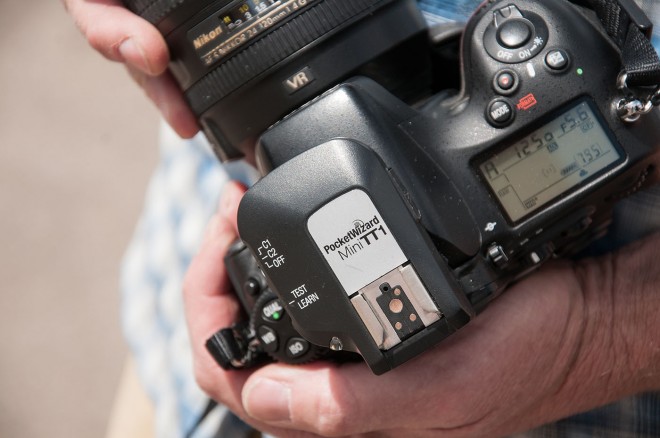 I attached a PocketWizard MiniTT1 to my camera, and used a PocketWizard PowerST4 receiver on the Ranger pack. With this setup, I can shoot at 1/4000 with my Nikon D800. There's a little flash clipping (dark edges) at this high speed, but it's not noticeable in this out-side location. 
Step Four
For this portrait, I shot in Manual mode. I prefer to manually change my settings to control exposure instead of using exposure compensation, but either way will work. For the first shots of Dayna, I set the background exposure 1/2-stop underexposed, just enough so she would stand out on a slightly darker background. In essence, my Octa was acting like a big fill flash, eliminating shadows on my model. My settings were f/4.5 at 1/1000 using my D800 and 24–120mm lens. An aperture of f/4.5 blurred the garage doors for a pleasing background, and the Octa Light Bank provided nice soft wraparound light. To add a little more edge to my light, I took off the front diffusion panel. But could I do this shot using my SB-900s?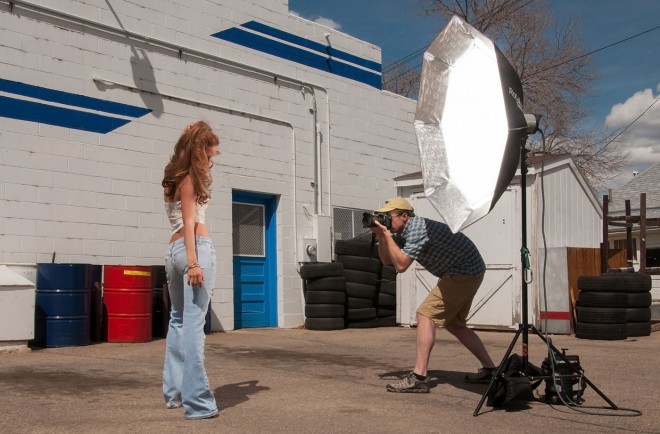 Step Five
Speedlights also have a mode, high-speed sync, that allows use of fast flash sync speeds, but the flash operates differently. When HSS is set (either in your camera or on your flash), the flash goes into a lightning fast strobic mode. No matter how fast the shutter is moving, the flash always illuminates the subject in this mode. Using HSS greatly reduces the flash's effective distance, so I often double or triple my flashes to add more power. 
To illuminate Dayna, I attached two SB-900s to a Lastolite TriFlash Bracket, and attached an umbrella to soften the light. So far, so good. But problems came about shooting my optical SU-800. Due to the direct sunlight, the transmitter's optical signal wasn't working. To solve this problem, I attached an SC-28 TTL Coiled Remote Cord to my camera and transmitter. This allowed me to place the SU-800 near the flashes and eliminate sunlight interference to the signal.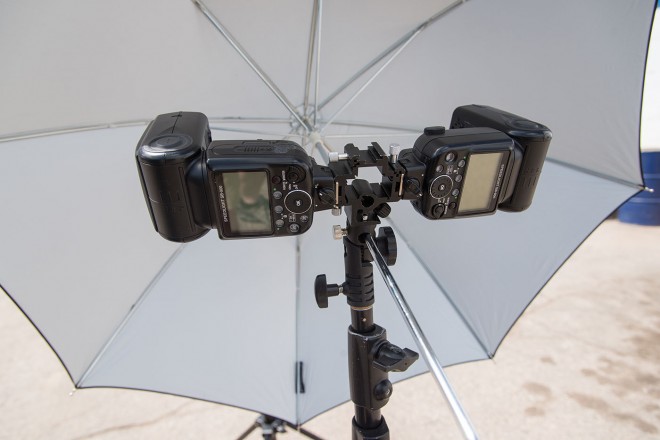 Step Six
My SB-900s were illuminating Dayna just fine at 1/1250 using HSS, but the light was a little more edgy with stronger shadows. Could I shoot through a softbox using HSS and SB-900s? Yes, but I've found you need a lot of flashes to get any significant output through a double-paneled softbox. HyperSync, using a single Ranger S Head, works very well, and ample light projects through a large softbox. 
For my final shot of Dayna she crouched down for a different look. At this point I was using my 85mm f/1.4. I decided to shoot at f/2 at 1/3200 for a very soft background. Using HyperSync, the flash lit Dayna perfectly every time. The next time you hear HyperSync or high-speed sync, know how these systems work and use them to your advantage. It isn't always about freezing the action.
Looking for more? Try this article on High Speed Sync and then this free tutorial for photographing outside with the sunlight.