Top 10 Reasons to Attend Photoshop World!
Eek! We are 69 days away from the biggest, baddest Photoshop/Lightroom/Photography Event of the year! There are so many reasons to go, but here are our Top 10! Hmmmm … actually, I think we are going to leave #1 blank for you. Fill in the blank in the comments section! Best answer wins a book signed by our keynote speaker, best-selling author, owner of a wall-of-guitars, legendary photographer Scott Kelby! (PS — We will announce our winner on Monday!)
1) (Your #1 reason to go to Photoshop World HERE.)
2) Learn more in 3 days than you have in the last 3 years.
3) VIP-hosted Photowalks throughout Vegas! (That's NEW!)
4) Hands-on Labs where you can get professional help on your own projects.
5) Live Natural Lighting Shoots in Food, Model, Macro & Wedding Photography.
6) After-parties!
7) 100+ classes for all different skill levels and interests.
8) Opening Keynote by Scott Kelby
9) Expo Floor with the latest, hottest industry products.
10) 3 full days of kick-butt training in Photoshop, Lightroom and Photography.
OK — so there you have it. Our team came up with their Top 10 reasons. Plus, see that discount code in the image below? If you register now, you will save $100 with our early-bird rate PLUS if you use the code (PSWTOP10) you'll get an additional $50 off. REGISTER HERE.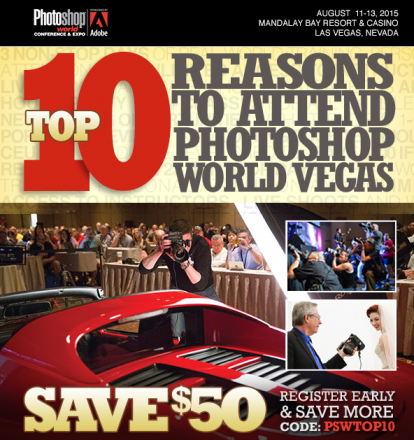 I personally cannot wait to see you all in Vegas! I will be there social media-ing =) If you see me, please say hi. We see each other all the time on social media right? Let's at least shake hands in Vegas!
–Ajna