Swift 3D 6
ADD ANOTHER DIMENSION TO FLASH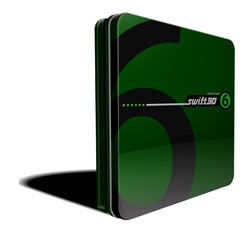 Some designers have a background in 3D modeling. I don't. Still, clients expect me to make their logos spin and dance in 3D space. As much as I'd love to learn how to use Maya or 3ds Max, I don't have the time or resources to do so.
Thank goodness for Swift 3D 6. It's a 3D application made specifically for Flash designers. It allows them to draw simple shapes, type text, or import AI/EPS files and extrude them. You can then color and shade the model and animate it using a Flash-like Timeline. Swift 3D ships with preset animations, such as spins and bounces, that you can apply via drag-and-drop. It also comes with a large styles library, so if you want your object to look like glass or chrome, you don't have to create that look from scratch. You can render out your model in a variety of styles, including photorealism and various cartoonish looks.
Once you import your project into Flash, you see it as a series of layers on the Timeline. Each aspect of the 3D data (reflections, colors, shadows, etc.) is on its own layer, so you have independent control of all the parts.
Advanced users will enjoy Swift 3D's ability to import industry-standard 3DS and DFX formats. Swift 3D also includes polygon tools for advanced modeling. Developers will enjoy the program's ability to export models and Papervision3D scenes.
With Swift 3D, I'm able to tell clients, "Yes, I can!"—Marcus Geduld
Company: Electric Rain
Price: $129
Web: www.erain.com
Rating: 4
Hot: Huge time saver; bargain: 25 effects for $129
Not: Mac only; lack of built-in image ordering