Canon PowerShot SX1 IS
SUPERZOOM COMPACT CAMERA WITH HOT SHOE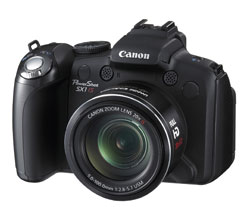 When the Canon PowerShot SX1 IS arrived, I was eager to put it to work. After all, a compact camera with a 20x optically stabilized zoom lens and RAW capture is enticing.
The SX1 IS includes full HD video capture (1920×1080 at 30fps), 25 shooting modes, and a host of other features, but the obvious star of this camera is the f/2.8–5.7, 20x zoom lens (28–560mm equivalent). Zoom operation is smooth, it's quick to focus, and photos are sharp with nice color. The not-so-obvious star (but the scene-stealer for many) is the ability to capture RAW files. More compact cameras should include RAW capture, so thank you, Canon.
This camera is easy to use thanks to the thoughtful ergonomics, straightforward menu, and flexibility of the lens. Users can compose shots on the vari-angle 230,000-dot, 2.8″ LCD, which holds up quite well in bright light, or with the electronic viewfinder. The quality of the viewfinder was so marginal that I didn't use it.
The 10-megapixel SX1 IS is billed as a serious camera. It's the first PowerShot to incorporate Canon's CMOS sensor, something previously reserved for their EOS cameras. It also uses the DIGIC 4 Image Processor with Face Detection Technology, Intelligent Contrast Correction, and Red-eye Correction. Photos are well exposed and contrast is excellent. So I have to ask why is noise evident at ISO 200 and prevalent at ISO 400? I wouldn't use this camera above ISO 200.
One other problem is that with all these high-end features, and the high-end price, Canon made the power source four AA batteries. This camera deserves better, and the price demands it. Shoot at a low ISO and pack plenty of spares.—Mike Mackenzie
Company: Canon U.S.A., Inc
Price: $599.99
Web: www.usa.canon.com
Rating: 3
Hot: RAW capture; stabilized 20x zoom lens
Not: Noise; AA batteries; price
Canon PowerShot SX1 IS images
Click on a thumbnail for a larger image. All images ©Mike Mackenzie.