Prezi
NONLINEAR PRESENTATION TOOL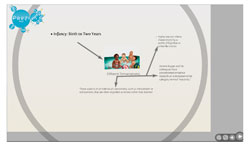 Prezi is a Flash-based visualization, storytelling, and presentation tool that allows you to create nonlinear presentations. Using the simple editor, you can place text, images, video, Flash files, and draw lines to show relationships between each item. The final result is a visual map that lets users zoom in and out and navigate to content in a clickable environment.
It takes a while to get used to Prezi's interface—especially the Zebra, which allows you to position and resize objects. The site offers excellent support with an online manual, tutorial videos, examples, and a blog. Perhaps the best feature is that it allows designers to focus on designing. Using Prezi, you can present a concept and supply multiple branches to supporting media without writing a line of code—it's like sketching an idea on a napkin!
As a hosted solution, Prezi has three pricing structures: Free, Enjoy (approximately $58/year), and Pro (approximately $176/year). The Free version gives you up to 100 MB of storage on their site, includes the Prezi logo on your presentation, and makes your presentations public. For an annual fee, the Enjoy and Pro versions let you create private presentations and access additional online storage space. Pro allows you to download a desktop version of their editing software. Free and Enjoy users design online by uploading content to the Prezi server. All versions allow you to use the simple editor; download your presentations and show them from your computer; create groups to share and collaborate with; import images, videos, PDFs, and Flash files; and embed presentations into blogs and websites.
Prezi is easy to use but when putting together a presentation, I found it sometimes took several seconds to respond while moving or resizing an object. Even with its few glitches, Prezi is a unique tool you'll want to consider adding to your toolset.—Cyndy Cashman
Company: Prezi
Price: Approx. $176/year (Pro)
Web: www.prezi.com
Rating: 4.5
Hot: Innovative; easy to use; affordable
Not: Occasional slow response