Sorenson Squeeze 5 Pro
EASY-TO-USE COMPRESSION AND ENCODING SOFTWARE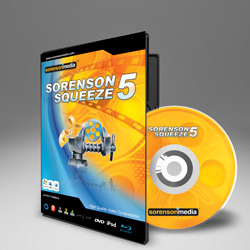 If you're looking for compression and encoding software that's easy to use and at the same time a fully featured professional application, look no further than Sorenson Squeeze 5 Pro. Building on Sorenson's history of producing high-quality, easy-to-use, video compression software, Squeeze 5 has evolved into a one-stop shop for all your video encoding needs.
Some may ask, "Why not buy a $23 shareware application?" Or, "Why not use the bundled encoder that came with my Suite?" I've used different encoders—shareware and bundled applications—and none but Squeeze has the accuracy in detail or clarity in compression, while allowing control over file size and bit rate.
What does this software do so well? First, in version 5, searching and sorting encoding formats and filters has been totally redesigned to allow for a more efficient workflow. Also, Squeeze 5 allows for simultaneous encoding across multiple cores, with up to 1.5 files per core, which dramatically increases encoding times for multiple core machines. And this version permits simultaneous multi-encoding of the same file with different compression settings. This lets you mix Flash, QuickTime, Windows Media, MPEG-2, and much more in the same batch without having to baby-sit the application—a must for anyone having to deliver multiple files in multiple encoding formats efficiently. In addition, the improved H.264 encoder is one of the best I've seen so far, producing accurate, high-quality MPEG-4 files every time.
The On2 VP6 Pro Flash video encoder cannot be beat. With 2-pass VBR capability (a feature that Adobe removed from their own Flash video encoder), VP6 Pro increases the quality of your FLV movies without sacrificing precious bandwidth and bit rates. Also, if encoding in Flash is important to you, the ability to encode in the new FV4 format will be a strong benefit if Squeeze 5 is added to your arsenal.
If that's not enough, Squeeze 5 has brand-new video filters (such as watermarking, sharpening, and saturation) that can be applied to your files in Squeeze before encoding. And speaking of filters, Squeeze includes new audio filters for adjusting volume. The Pro version includes Bias SoundSoap, a filter that will remove hum and noise right inside the audio filters tab without leaving Squeeze.
Some other features worth mentioning are watched folders, Blu-ray support, and the WMV Component for Mac. With watched folders, Squeeze will encode any movie file that appears in the folder using the compression setting you've assigned.
Now that Blu-ray has won the VHS/Beta war of the 21st century, support for Blu-ray encoding in Squeeze will be an invaluable asset moving forward. Also, the support for Microsoft's VC-1 codec is a nice bonus since it has now been adopted as one of the encoding formats for Blu-ray.
Finally, Mac users will benefit from being able to encode with the WMV format using Squeeze's WMV Component (available at an additional cost) just in case you have a client who wants a WMV file.
So, what's the verdict? The new version of Sorenson Squeeze Pro offers a complete video compression and encoding package for around $600. Because of the cost, however, it may not be for the beginner. You'll be hard pressed to find a more easy-to-use, comprehensive program, while still having complete control over quality and output. Squeeze is definitely worth a serious look for anyone having to encode videos in a professional setting.—Erik Kuna
PRICE: $599 ($779 w/WMV Component for Mac)
FROM: Sorenson Media, Inc.
WEB: www.sorensonmedia.com
RATING: 4.5
LAYERS VERDICT
HOT Simultaneous multifile encoding; ease of use; quality
NOT Can be pricey for some users