Toon Boom Studio 4
ALL-IN-ONE ANIMATION SOFTWARE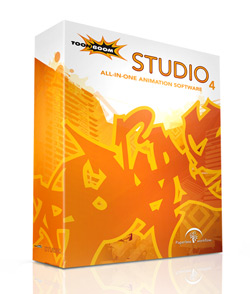 Be careful what you wish for: You might get it. That's what happened to me when I moaned about Flash's lack of pro-level animation capabilities. I wound up with Toon Boom Studio 4, a power tool for animators that can export to several popular formats, including QuickTime and SWF.
While Flash is easy to learn (if you skip scripting), Toon Boom is a monster. But the flip side of the coin is that Flash doesn't have many tools for the animator—that's why it's easy to learn. On the other hand, Toon Boom Studio, as the name implies, is an entire studio worth of tools: pro-level lip-synching, virtual cameras, vector tracing, a rotary drawing table, exposure sheets, forward kinetics, an advanced color palette system, and…well, you get the point; it's feature-packed.
Those of you upgrading from older versions of the program will likely enjoy its new interface, which is very similar to the one in many of the Adobe CS3 applications, with dockable panes you can drag to resize. Version 4 also includes feathered edges and the ability to import Illustrator files with layers intact.
Toon Boom Studio isn't a use-out-of-the-box application; you have to delve into the documentation (in addition to the docs that ship with the program, the Toon Boom Animation website is loaded with helpful tutorials and user forums). But the serious animator will willingly climb to the top of the learning curve. The view is spectacular from there. See ya later, Flash!—Marcus Geduld
PRICE: $399.99
FROM: Toon Boom Animation Inc.
WEB: www.toonboom.com
RATING: 4.5
LAYERS VERDICT
HOT Swiss Army knife of tools for the pro-animator
NOT You actually have to read the darn manual