Snapz Pro X 2.1.1
Record anything on your screen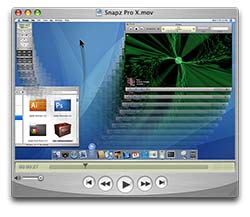 Snapz Pro X 2.1, the venerable desktop video recording utility on the Mac, has gone Universal Binary and Intel Native…and classroom educators and corporate trainers alike are shouting for joy! The welcomed upgrade makes creating training videos and product demos on the desktop faster.
Desktop video capture utilities come in two flavors: those that save video recordings of your desktop operations as you're doing them; and those that save everything into memory (or virtual memory) and then postprocess the creation of the final output video files once your session is complete. The direct-record method allows you to get a finished clip as soon as you stop the live recording session but you run the risk of slowing the computer, which slows the video-capture process. If all you're doing is recording menu options and dialogs, you don't need to worry; however, I've found that video clips I play in say Premiere Pro or After Effects as I'm recording will be slow, pause, or even skip.
Snapz Pro X uses the second method of capture, which has the advantage of postprocessing the file, eliminating the possibility of not recording the smooth playing of video clips in your capture session. The downside is that you have to wait for the video to render after you're done recording. Because this latest version of Snapz is Intel native, it significantly reduces the time to postprocess files.
Two things I wish Snapz had: a way to highlight the cursor as it moves around the screen and a built-in zoom. All-in-all, this is the best version of Snapz Pro X that Ambrosia has ever delivered and a welcome tool for anyone who needs to capture video clips of what they do onscreen.—Rod Harlan
PRICE: $69(upgrade from $20)
FROM: Ambrosia Software, Inc.
PHONE:
WEB: www.ambrosiasw.com
FOR: Mac
RATING: 4
LAYERS VERDICT
HOT Intel native
NOT No cursor highlight or built-in zoom functionality