PowerLite 1715c Projector; Duet Screen
Multimedia projector and ultra-portable screen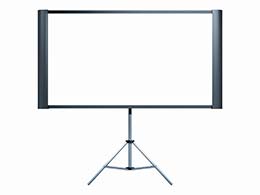 When I took Epson's PowerLite 1715c Multimedia Projector out of its protective canvas case, I was fixed on how compact (3.1″ high, 10.7″ wide, and 7.6″ deep) and light it is (only 3.7 lbs). Score points for portability. Also impressive is that with up to 2700 lumen light output, it can project in a big room in challenging ambient light situations without compromising presentation quality.
The 1715c is housed in a white metal casing and uses Epson's 3LCD projection technology. It's fast; the 1715c displays an image within 12 seconds. After hours of use, it never became hot or noisy and it shut down nearly instantaneously. On its top is a simple, clearly labeled control panel with a "source search" button that can detect and switch between any devices attached to the 1715c's ports that include: audio input, 15-pin VGA, composite video, s-video, and USB 1.1 and 2. There's no DVI port. The projector includes a full-featured, albeit cluttered, remote whose signal is picked up from any direction and the remote includes a pointer.
To test the projector, I simultaneously connected a laptop, a camera, and a television to the 1715c and switched between each device without a hitch using the source search feature. Two caveats: Theoretically, you can simultaneously connect two laptops—one running off the USB port and another using the VGA port. In reality, the 1715c currently won't run from a Mac PowerBook's USB port or from PC laptops running Vista. (This was confirmed by level-two tech support.) Although the 1715c can receive an HDTV input signal, it's scaled down to fit the projector's highest resolution of 1024×768. The 1715c can run wirelessly and is compatible with 802.11a/b/g-compliant devices. In the advanced wireless mode, it's capable of transferring up to 54 MB/s. I had my laptop set up and running wirelessly in just a few minutes, playing movies, PowerPoint presentations, and all running smoothly from approximately 10′ away.
Color reproduction is good. The projector has seven preset color modes including sRGB and one for customization. A full menu of color adjustment sliders allows the flexibility needed to season the image to taste. One minor annoyance is that there's no live preview to see the distinctions between color modes when deciding which of the presets is best to use. You must first press Enter before seeing the effect. It would facilitate matters if Epson included a live preview.
Despite a modest contrast ratio of 400:1, images had good contrast with good highlight and shadow detail. The optical zoom lens provides excellent image quality with even illumination; saturated colors; and crisp, legible text. The 1715c can switch between 4:3 or 16:9 aspect ratio. It has automatic and manual keystone correction up to 30° and can freeze-frame and selectively zoom in on an image from a video.
Epson also sent along their versatile, easy-to-work-with Accolade Duet Ultra Portable Screen, which is uniquely designed. You can adjust both the height and the width (up to 80″) of the screen for viewing standard 4:3 images and 16:9 widescreen images. It weighs a solid 27 lbs and comes with a wall-mounting bracket. Images are displayed brightly on the screen's white fabric.
Together, the PowerLite 1715c Multimedia Projector and Duet Portable Screen make a dynamic presentation combination.—Steve Baczewski
PRICE: Projector $1,849 / Screen $249
FROM: Epson America, Inc.
PHONE: 800-873-7766
WEB: www.epson.com
FOR: Mac and Windows
RATING: 4.5
LAYERS VERDICT
HOT Versatility; portability
NOT USB connection for Macs