Small Flash in Remote Locations: Tutorial | KelbyOne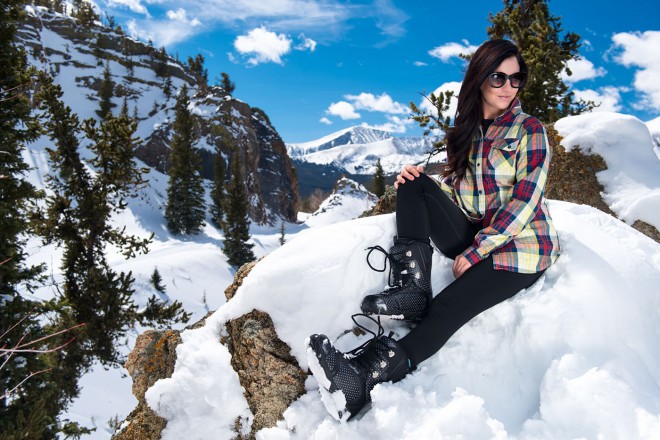 We are heading west of the Mississippi to cover the mechanics of an environmental portrait—at some serious altitude: 11,493′, to be exact! Every time I get the opportunity to visit Summit County, Colorado, I'm completely blown away by the beautiful mountain views. All other plans are put on hold until I get a chance to capture some classic landscape photographs. A word to the wise: Your small flash usually won't do much good out here when attempting to re-create an Ansel Adams' marvel. Being the people photographer that I am, the urge to blend man and mountain into a single frame soon kicked in. And that's where we begin.
After a fresh snowfall, the locals call a clear, sunny day on the mountains a "Bluebird Day," and for this shoot, we were graced with just such an incredible canvas with which to work. Now, when you're up this high, the air gets rather thin, so no one wants to be lugging much gear. Moreover, the location I had chosen—a beautiful lookout called Boreas Pass—is inaccessible by vehicle during the winter months, which meant that we would have to hike in on foot. What better excuse to leave the heavy strobes at home? In the end, we whittled the gear down to a handful of Nikon Speedlights, one reflector, and the necessary wireless triggers, light stand, etc.
Step One
Because of the limited amount of gear, it was obvious that we wouldn't be overpowering broad daylight. We needed to work as much as possible with the existing light, which made selecting the right location and composition even more important.
One popular setup is to place the sun behind your subject, creating the opportunity for some great sun flares; but, upon further examination, this can lead to a couple of problems. First, the dynamic range between your subject and the sky becomes huge, which leads to silhouettes or overexposed white skies. Second, the sun then casts the majority of your scene into shadow. Quite simply, when shooting on location, it's much easier to let the existing sunlight do the majority of the work for you and add in a bit of flash to polish off the scene.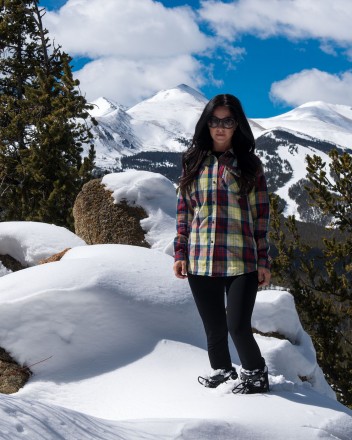 For this shot, we selected a location and composition that positioned the sun to camera left, beautifully lighting the scene and the mountains, and leaving only a little shadow to fill in on the side of our model. Anticipating that we'd be using small flash,
I set my camera to manual to expose for the background, while keeping a slower shutter speed that was within my camera's flash sync range (1/250 at f/5.6, ISO 100).
Step Two
This step doesn't actually involve a flash at all, but rather the most versatile piece of kit I own: a reflector. With a collapsible reflector, you generally have two choices to work with: a white side and a silver side. The white is great when used up close for a soft, subtle fill. In this case, though, we'll use the silver side, as it's easier to direct reflection and gives a higher output. (Note: A silver reflector in broad daylight can quickly become a second light source—almost as bright as the sun—so be wary of where you aim it.) Notice in this image that the reflector alone cast a somewhat awkward underlighting, where the shadows unnaturally go up, rather than down.
In the end, we used the reflector mainly to shine light back onto our subject to highlight her clothing and create a balance with the surrounding scene.
Step Three
Now that we've selected the location, grabbed a base exposure, and bounced back some fill, it's finally time to bust out the flash. The only problem is that we're trying to balance out a heck of a lot of sunlight here and power isn't the small flash's strong suit. Fortunately, portability is, and we were able to bring three Nikon Speedlights along with ease. I used a handy LastoliteTriFlash Bracket that let me mount multiple flashes to a single light stand.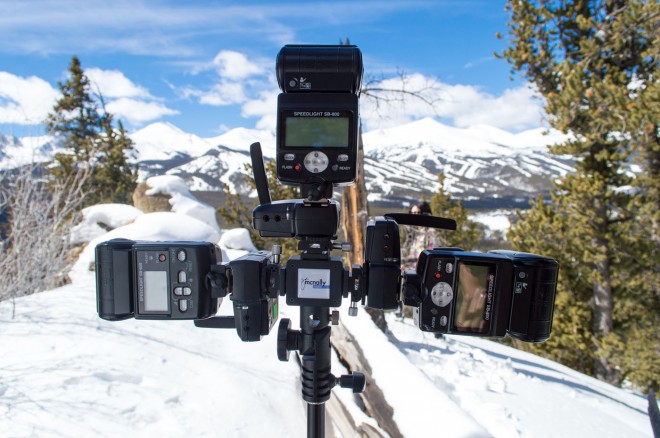 Note: Every time you double the number of flashes, you get another stop of light, which can become cost-prohibitive if taken to extremes, but 3–4 flashes firing as one is a quick and effective way to up your output.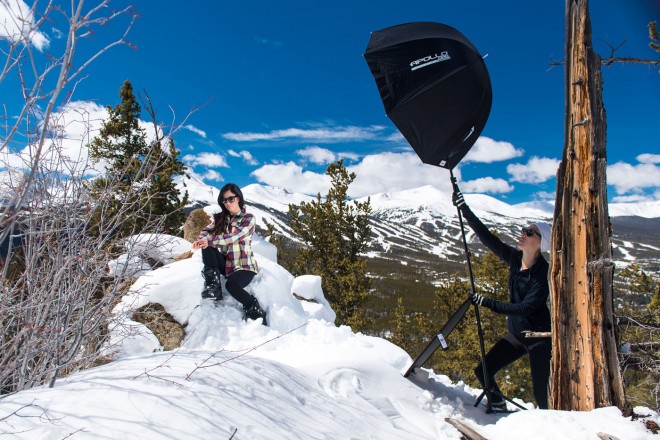 To further shape this small tree of flashes into a single light source, I used a Westcott Apollo Orb and removed the front diffusion material so as not to lose any of the flash power that we just gained. This also gave the light a round shape and some nice punch to mimic the quality of the existing sunlight.
Step Four
After getting the static shot we set out for, we took a few more shots at different angles. Then a snowball or two might have been thrown, which inspired this photo. With not a cloud in the sky, there was no chance of natural snowflakes, so our model performed double-duty by tossing some snow into the air then snapping back into a pose. Here's where another perk of using small flash kicked in. The majority of our exposure was still lit with natural light, and I wanted to freeze the snow for this photo. So, I sped up the shutter speed while, at the same time, opening the aperture to keep the correct exposure. As I've discussed in previous articles, small flashes can switch into a continuous pulse mode (Auto FP Mode) as shutter speeds ramp up past the standard sync barrier. This kicked in automatically here, allowing me to work quickly and seamlessly to grab this tack-sharp image in just seconds (1/1000 at f/2.8, ISO 100).
For me, this shoot was another huge affirmation of how versatile and portable small flashes can be when working in even the most remote locations. With a small backpack of gear, we teamed up our flashes to balance out midday light for an environmental portrait. Then, with the aid of the built-in High Speed Sync feature, we switched over to a fast shutter speed to freeze motion, while still maintaining our fill light. All this, while taking in a killer view and bringing part of it back home with us to share.