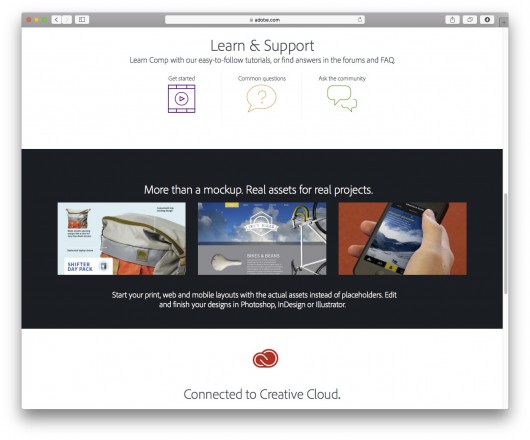 Will Eisley posted on the Adobe Creative Cloud blog about this new mobile app. For anything you want to design, you can now make a comp in Adobe Comp CC on your iPad. Then you can send it to Photoshop, Illustrator, or InDesign to complete the design on your computer. Terry White has a video on YouTube where he walks you through all the features of this fun new app, Adobe Comp CC. He shares how you can make a comp and points out some of the very cool features of this app including the ability add and adjust your own fonts.
If you are looking for an app to help you make real layouts while mobile, bringing in assets from your Creative Cloud Libraries, placing objects, images, headlines, and more with a few swipes and taps – you need to check out this app. The amount of control you have in designing your comp in the mobile app is sure to please you. And yes, when you send the comp to Photoshop, it will create a native Photoshop file. The same applies to InDesign and Illustrator.
Adobe Comp CC is a free download for your iPad available at the App Store. As with most apps, it features pop-up help items for your first time using the app. Here is a link to mobile app tutorials from Adobe so you can check out the features and ease of use. If you still don't have a Creative Cloud membership, get one here and start creating.
We would love to hear what you have to say about this new app. Share your thoughts with us!