Olympus SP-510 UZ
All-in-one ultra zoom digital camera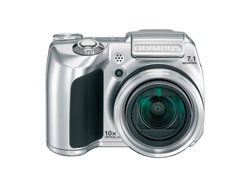 The SP-510 UZ (Ultra Zoom), 7.1-megapixel digital camera from Olympus has features usually reserved for higher-priced point-and-shoot cameras and digital SLRs.
For example, the camera includes a 10x quality zoom lens (38–380mm, 35mm equivalent) with a fast f/2.8 aperture, RAW and JPEG formats, auto bracketing, and a movable focus-point indicator. It has seven shooting modes including manual, automatic, A/S priority, and video, as well as 21 presets for portraiture, sunsets, etc. And it has good auto white balance. The user-friendly GUI and comprehensive menus are well organized. You can return from anywhere in the extensive menus to the main screen by pressing the Menu button twice.
Its ISO settings are from 50–4000; however, it's marred by appreciable noise at ISO settings higher than 200. And image stabilization isn't optical but achieved by boosting the ISO.
The bulky metallic silver body has a comfortable rubberized grip and most of the camera's controls are within easy reach. When powered on (by four AA batteries), the SP-510 UZ is ready to use in 3 seconds. The lens is quality optical glass and has little appreciable aberrations throughout its focal lengths. In Super Macro mode, it can focus down to 1.18″.
In operation, shooting in RAW is slow with a 7-second shutter lag between shots, and it can only shoot two RAW files in continuous mode. In bright light, images are washed out on the 2.5″ LCD; however, you can switch from the LCD to an EVF for composing—both screens display the same data. A wonderful onboard how-to guide gives exposure solutions to common situations, such as backlighting, and then automatically sets the camera.—Steve Baczewski
PRICE: $299.99
FROM: Olympus Imaging America, Inc.
PHONE: 888-553-4448
WEB: www.olympus.com
FOR: Mac and Windows
RATING: 4
LAYERS VERDICT
HOT Lens
NOT Noise