Nikon D5000
ENTRY-LEVEL DIGITAL SLR WITH ARTICULATED LCD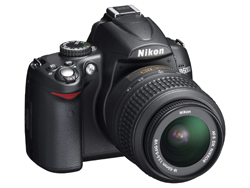 The new 12.3-megapixel Nikon D5000 is targeted at people stepping up to a digital SLR from a point-and-shoot. It includes an articulated 2.7″ LCD, a first for a Nikon digital SLR, so it will look familiar to users making the transition. The D5000 shares some features with the higher-end D90, including the image sensor, Live View, and the ability to record 720p HD movies. The articulated LCD makes using Live View and recording movies from multiple angles much more practical.
The D5000 incorporates an effective Airflow Control System to remove dust from the sensor; has a shutter life of more than 100,000 shots; can shoot continuously at a respectable four frames per second (fps); uses SD and SDHC memory cards; and records RAW and JPEG formats alone or in combination. The EXPEED processor features practical, in-camera, postcapture effects, such as Soft Filter and Color Outline, Perspective Control, active D-Lighting to optimize shadow and highlight detail, and correction of lateral JPEG chromatic aberrations. The image quality is very good; however, I have a plea to all camera manufacturers: If you create yet another proprietary RAW format for your cameras, please don't release the camera until the RAW format is supported and ready to go. Buying a new camera and then waiting until the proprietary format is supported is not practical for users. This was the case with the D5000. I shot and printed only high-quality JPEGS. Thankfully, the sensor has a relatively wide dynamic range and image quality was very good.
The test unit included a very good, inexpensive NIKKOR 18–55mm, f/3.5–5.6 VR kit lens. Unfortunately, the D5000 doesn't have an internal autofocus motor to support older NIKKOR lenses. The lightweight D5000 has a pop-up flash and hot shoe for the optional flash and GPS units. The shutter is quiet, the grip is comfortable, and the mode dial and controls are in convenient reach. The mode dial has the standard Program, Shutter, Aperture, and Manual modes, plus 19 auto preset scene modes. The movie and Live View mode share a dedicated button. An information button accesses an onscreen manager for adjusting frequently used features, allowing you to avoid unnecessary menu scrolling. The ISO range is from 200 to a 3200, with a Lo-1 setting of 100 and a Hi-1 setting of 6400. It produces files capable of making quality 13×19″ prints.
You can capture AVI-format video at 1280x720p HD, 640×424, or 320×216, all at 24 fps. Sound is monaural. While recording video, continuous autofocus isn't available, so you're left adjusting the focal length and focus of your zoom manually, which I found clumsy. You can shoot a still frame while recording a movie but that ends the recording—an implementation that seems to defeat the purpose. Although video capture is a big advance and the HD quality is good, it's limited to 2 GB or five minute sequences, making it more a fresh novelty than a profession tool. HDMI output connectivity is included.
The 230,000-dot, low-resolution LCD is unconventionally hinged at the bottom, limiting its movements when mounted on a tripod. Otherwise, it swings down 180° and rotates 270° for composing high- or low-angle shots. You can even take a self-portrait using Live View. I hope Nikon's next iteration of Live View will include a live histogram for making precision exposures. The low-resolution LCD makes it difficult to judge detail and focus in open sunlight. Live View uses contrast detection for focusing and is slow compared to the responsive 11-point AF sensors in the optical viewfinder. The D5000 performs very well, produces quality files, and is a giant leap from a point-and-shoot.—Steve Baczewski
Company: Nikon USA
Price: $729.95 (Body only); $849 (w/18–55mm VR kit lens)
Web: www.nikonusa.com
Rating: 4
Hot: Articulated LCD; excellent image quality
Not: No autofocus with video; low-res LCD