Maya 2009 Unlimited
3D AND VISUAL-EFFECTS APPLICATION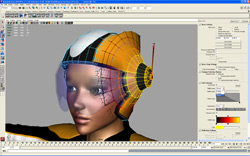 Without a doubt, Maya is considered one of the most powerful 3D and visual-effects packages on the market today. While all of the conspiracy theorists had Autodesk buying Maya only to integrate it into 3ds Max (I admit, I thought this would be the case too, but I'm glad that I was dead wrong), Autodesk has done nothing but build upon the features that we all love while adding new ones that will take our creativity to levels we never thought possible.
Autodesk marks the 10th anniversary of this groundbreaking program with the release of Maya 2009 in Unlimited (tested) and Complete editions. Packed with new features that are sure to have 3D content creators salivating at the chance to get the newest version, Maya 2009 delivers a wide range of productivity-enhancing polygon and texture workflow enhancements, including true soft selection, updated symmetrical modeling, and a tweak mode. The new Maya Assets and Render Proxy features make complex and large scenes more manageable. This release also gives artists tools that support collaborative, iterative workflows and data reuse, including updated animation layering and Render Pass functionality, along with tools that enable them to achieve greater levels of realism and more stunning effects, such as Maya nParticles module, a fully updated Maya Muscle toolset, and a new stereo camera rig.
There are two areas that will have animators jumping for joy: the new Muscle tools and Animation Layering features. Muscle tools enable you to create lifelike muscle and skin motion on your characters. Muscles can be created as a way to deform the mesh of a character's skin, which takes character animation beyond simple mesh and skeleton deformation tools. Maya's new animation layering feature has a simple Animation Layer Editor located in the Channel Box. This interface gives you all of the tools and options you need to create and manipulate animation layers. This feature allows artists to create multiple layers of animation nondestructively that can be blended, merged, grouped, and reordered. These two features alone are worth the upgrade if you're an animator. But wait, there's more!
Other great new features can be found in the modeling area with the Soft Selection tool and symmetrical modeling feature. The Soft Selection tool is very useful in organic modeling and gives you the ability to select part of a model then have the selection fall off over a defined distance. Symmetrical modeling allows for a less-painful method of sculpting characters, while the new Merge Vertex feature gives a simpler way to stitch poly models together.
In keeping with their previous releases, Maya comes in two versions: Maya Complete (standalone $1,995; upgrade from Maya 2008 is $895) and Maya Unlimited (standalone $4,995; upgrade from Maya 2008 is $1,795). Maya Complete has all of the modeling, animation, character rigging, video f/x (vfx), and rendering tools needed to create amazing projects, while Maya Unlimited adds tools such as Fluid Effects, nCloth, nParticles, as well as Hair and Fur.
The new features and changes in Maya 2009 are well worth the upgrade for anyone looking to take their projects to another level. These updates and new features will definitely keep Maya at the forefront of digital animation and vfx for some time to come.—Bruce Bicknell
PRICE: $4,995 (Unlimited); $1,995 (Complete)
FROM: Autodesk, Inc.
WEB: www.autodesk.com
RATING: 4.5
LAYERS VERDICT
HOT Muscle tools, animation layering; true soft selection; Particles module
NOT Cost