Corel Painter 11
NATURAL-MEDIA EMULATION ART STUDIO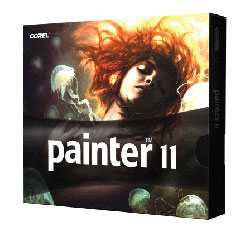 Corel has just released Painter 11 and, as with previous versions, this release is packed with new features, tools, and upgrades. In fact, there are so many new and cool features it's hard to know where to begin, so let's just start in the creative category with hard media variants. After all, what is a painter without her brush? There are more than 40 new brushes available in multiple brush categories, including Acrylic, Blenders, Chalk, Pencils, Pens, Pastels, and Watercolor. The new hard media variants have their own Hard Media palette that enables users to create and save their own custom variants.
There are also new brush markers with some awesome controls that enable the artist to customize how the media dries on the canvas. This allows for new options in blending, as well as the ability to control color build up, just like traditional markers. Accompanying these new brushes and markers are a new Colors and Mixer palette. Both palettes are now resizable, so you have a better view of available colors and more room to mix custom colors. You can also add swatches to the Mixer palette for even more color creativity.
Corel added some new technical goodies in Painter 11, including keyboard color selection. Simply tap your pen in the hue ring to activate the color wheel's predominant color, and use your Arrow keys to fine-tune to the color you want. It's a very nice feature, especially with the enlarged Colors and Mixer palettes on a secondary monitor.
My pick for the coolest new toy is tablet tilt. You can now control the width of brush strokes by the tilt of your pen, just like a real traditional brush! A vertical pen angle will create a narrower stroke, and holding your pen at a slanted angle will create a wider stroke. Tablet tilt works with any of the dry media (Chalk, Charcoal, Pens, Pencils, and Markers) that are marked as "real" media.
Now you can save color profiles for every painter document in RIF, PSD, TIFF, PNG, and JPEG formats. Whether you're importing a PSD file or a scanned image or photo, Painter will recognize the color profile associated with that file to help maintain color consistency.
There's a new Polygonal Selection tool, and all the Transform tool modes have been combined into one property bar for easier access. Improved transformation flexibility allows you to transform either the entire document or just select portions of the document. This is another contender for the coolest new toy award.
Overall enhancements to Painter 11 include improved copy-and-paste that's faster and allows you to copy from multiple layers, as well as all visible layers; a 30% increase in brush response speed; Vista support (I'm happy to report that I was unable to crash Painter); and new PNG file support.
This latest version of Painter is Corel's best product yet. There are many important new creative and technical features and enhancements, but as a natural-media emulation program, the creative side is far more important to me as an artist than the technical gizmos. I have to admit, however, that the technical gizmos are pretty rocking in this release!
Users of Painter X should definitely consider upgrading to Painter 11. The tablet tilt feature alone is worth the price, but there are so many other things that you get that I don't see how you can go wrong with this version.—Tami Fry-Pietsch
PRICE: Box: $429 (Upgrade: $229); Download: $399 (Upgrade: $199)
FROM: Corel Corporation
WEB: www.corel.com
RATING: 5
LAYERS VERDICT
HOT Tablet tilt function; save color profiles to decrease color shift
NOT