Manga Studio EX 4
COMIC- AND MANGA-CREATION SOFTWARE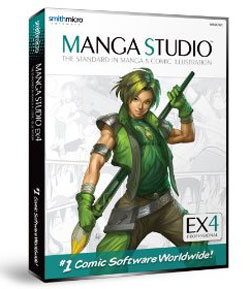 As an animator, I'm always excited when Smith Micro announces a new version of their products, and the release of Manga Studio EX 4 is no different. Smith Micro tweaked the existing tools and added a host of new features, including a suite of vector-graphic tools, professional color set, mesh transformation, improvements to the text capabilities, and much more. Those of you who are familiar with Manga Studio EX 4 know that it's considered the go-to program for the comics art industry, but artists in many areas are finding the features offered are useful in their fields as well.
For those of you who aren't sure exactly what Manga Studio is, it's a vector- and raster-based program that allows you to create drawings using the Pencil tool naturally, as you would with a traditional pencil and paper. It's even better if you're using a Wacom Cintiq tablet (or any Wacom product) as it gives you total control over your lines and inking capabilities. It offers numerous tools for toning, speed lining, lettering, and perspective. It also allows the importing of 3D objects and 2D images and the importing and exporting of file types including JPEG, BMP, PNG, PICT, and TIFF.
Some really cool things are happening in the new version of Manga Studio EX 4 with both new features and improvements to toolsets and functionality. For me, the new vector toolkit and the professional color set are the two best new features. The vector toolkit allows the new vector drawing tools to integrate seamlessly with rasterized pens. This makes it possible to convert a raster layer into editable vectors. The Pen and Line tools still function as they did in the previous version no matter which format you choose, but the vectors allow you to scale up smoothly for a clean image. The professional color set is just as impressive, as it has addressed a huge limitation (lack of working in color) that Manga Studio 3 had compared to other art programs on the market. As with anything, you could work your way around this by assigning a specific color to an individual layer, but if you were going to work with many colors, this definitely wasn't the solution. With Manga Studio EX 4, the problem has been addressed. In addition to the 1-bit (black only), 2-bit (black and white), and 8-bit (grays) layers, you now have a 32-bit color layer. This new layer allows you to place all the colors you want onto one layer, making life much easier.
As with any review, there's never enough time to go through all of the new features or updates but some others worth noting are the addition of a professional filter set that gives you a suite of advanced creative filters; a new story editor that allows you to enter and edit the text for your entire story and distribute it across pages; and advanced text input so you can enter text directly on your page. The most notable updates are that you can export to more formats than ever before with the addition of TIFF and PDF. Also updated are more 3D objects and fully customizable pattern brushes.
Manga Studio EX 4 is a comprehensive program for creating comics or illustrations of any kind. There's a bit of a learning curve for the beginner but there's content and tutorials that will get you up to speed in no time. Professionals will have no regrets, as this is the best program out there for creating comic graphics and boards, bar none.—Bruce Bicknell
Company: Smith Micro Software, Inc.
Price: $299.99
Web: www.smithmicro.com
Rating: 5
Hot: Natural art tools; pro-quality output; export formats; story editor; cost
Not: