FusionCharts for Dreamweaver Designer Edition
ANIMATED CHARTS FOR DESIGNERS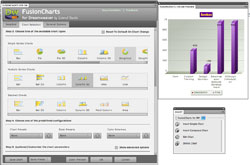 If Dreamweaver is your main website-development tool, you'll want to give FusionCharts for Dreamweaver a test run. This extension installs in the Dreamweaver Insert panel and provides a user-friendly interface for creating animated, colorful, interactive, and data-driven charts.
If you don't like looking at code, you'll appreciate the ability to add interactive, animated Flash charts to a webpage without ever leaving Design view. The FusionCharts interface contains three tabs: Data Grid, Chart Selection, and General Options. The Data Grid tab allows you to manually enter data or import it from either a CSV or XML file. The Chart Selection tab displays 34 types of 2D and 3D charts from which to choose. The Advanced button expands the panel to display an array of menus that allow you to customize almost every aspect of your chart. The last tab, General Options, provides settings for specifying your chart's dimensions, font size, adding labels, and more.
One of my favorite features is the integrated preview. The Preview button is always available so you can view your changes before the final chart is published. If you accidentally click the OK button before you mean to, you only have to select the chart in the HTML page and click the Edit Chart button.
I found FusionCharts for Dreamweaver easy to use and was impressed with the hundreds of presets and styles. The online documentation loads quickly and is easy to understand. The gallery of examples is inspiring. While there are other chart-building applications available, it's worth your time to download a trial copy.
FusionCharts for Dreamweaver is available in Designer and Developer Editions. The Designer Edition, which was used for this review, is for users who want to create animated charts without writing code. The Developer Edition is for developers who develop database-driven websites.—Cyndy Cashman
Company: Extend Studio
Price: Approx. $87.07
Web: www.extendstudio.com
Rating: 5
Hot: Easy to use and affordable
Not: