Keyboard Shortcuts Streamline Acrobat Workflow
Everybody loves shortcuts!
You can navigate, edit, and manage your PDF documents much faster and easier in Acrobat if you take advantage of keyboard shortcuts to help you perform common tasks. Following are some of the keyboard shortcuts I use on a regular basis to help streamline my workflow.
1 PAGE ZOOMING
There are numerous tools and methods for zooming in and out of PDF document pages. Here are the ones that have consistently proven most useful: Press-and-hold Command (PC: Ctrl) and then – to zoom out or + to zoom in on a document page. Press Spacebar and then Command (PC: Ctrl) and drag your mouse over the area into which you wish to zoom. Press Command-0 (PC: Crtl-0) to fit the entire page into the display area; use 1 instead of 0 to view page at 100%.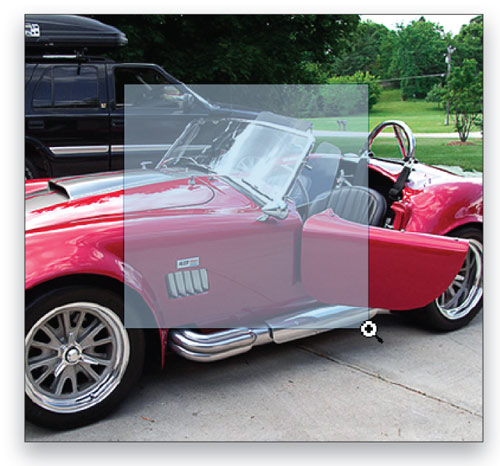 2 PAGE NAVIGATION
Use Command-0 (PC: Crtl-0) from Step 1 to first view an entire page of your document, then use the Right and Left Arrow keys to navigate forward and backward, respectively, through your document one page at a time.
Use the Home and End keys on your keyboard to navigate to the first and last pages of your PDF document.
Press Shift-Command-N (PC: Shift-Ctrl-N) to activate the Go To Page dialog to navigate to a specific page number.
You can also use your Pages panel (View>Navigation Panels>Pages) to navigate through your PDF document (see Step 3 for more on the Pages panel).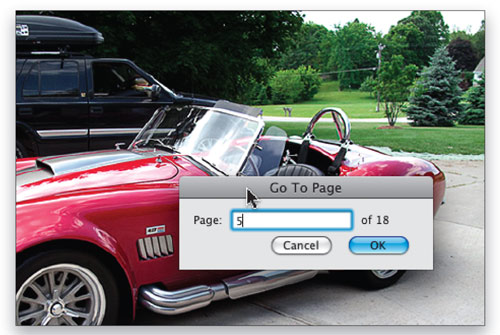 3 DOCUMENT AND PANEL NAVIGATION
Press Command-F6 (PC: Ctrl-F6) to navigate to the next open document (add the Shift key for the previous document). You can also press Command-~ (PC: Ctrl-~) to move from one PDF document to another.
To navigate within a document using the Pages panel, press the Arrow keys to select the page you wish to view, and then press Return (PC: Enter) to view that page in the display area.
Press F6 then the Arrow keys to navigate to one of the Navigation panels along the left edge of the document window. Then, press the Tab key to navigate through the various options within a Navigation panel.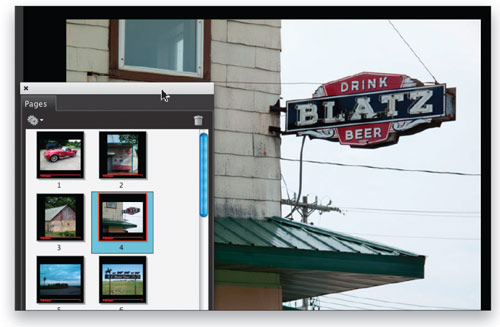 4 ROTATE PAGES
Hold Shift-Command (PC: Shift-Ctrl) and press – to rotate pages quickly to the left in 90˚ increments or + to rotate to the right. You can use the Rotate Pages dialog instead by pressing Shift-Command-R (PC: Shift-Ctrl-R), but I think you'll find the above keyboard shortcuts to be much faster. Even when you want to rotate 180˚ you need only tap + or – twice to rotate quickly through 180˚. Note: After rotation, simply release the Shift key and press +/- (with your Command [PC: Ctrl] key still pressed) to zoom in and out (see Step 1).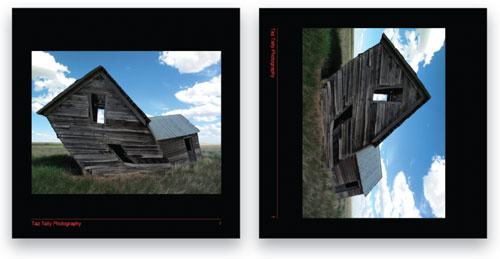 5 ENTER AND EXIT FULL SCREEN MODE
Press Command-L (PC: Ctrl-L)—think "L" for "live" mode—to activate Full Screen (presentation) mode. Press the Escape key to exit Full Screen mode. Use the Full Screen Preferences (Command-, [PC: Ctrl-,] and select Full Screen on the left) to control characteristics of Full Screen mode, such as looping and transitions. (See Step 11 for a fast, flexible way to change transitions for Full Screen mode. See Step 6 for controlling the display appearance for traveling PDFs.)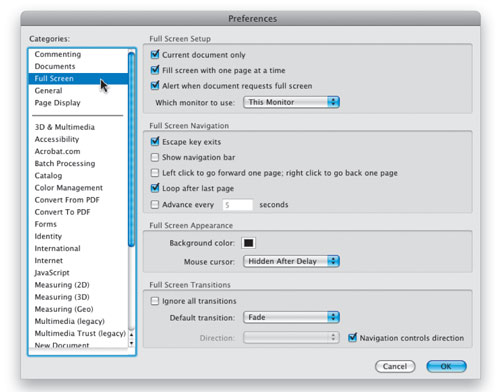 6 ACCESS INITIAL VIEW SETTINGS
Press Command-D (PC: Ctrl-D) to access the Document Properties dialog, then select the Initial View tab at the top. Use the Tab key to navigate to drop-down menus, the Arrow keys to open the menus, and the Enter key to select a menu option. The Initial View settings control how a particular PDF will open and display on other computers. (See Steps 5 and 7 for controlling how your PDFs open and display on your computer.) Note: This Document Properties Initial View setting supersedes the Page Display in the Acrobat Preferences discussed in the next step.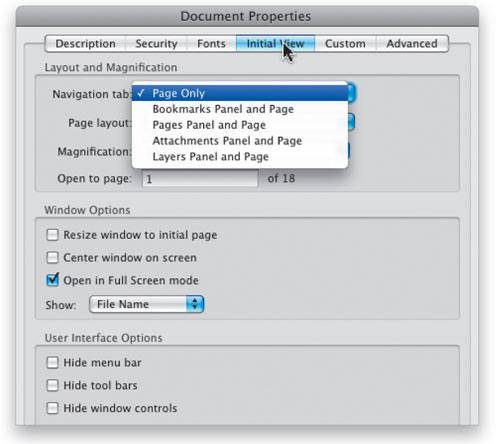 7 ACCESS AND CONTROL ACROBAT PREFERENCES
Press Command-, (PC: Ctrl-,) to open the Preferences dialog, then use the Up and Down Arrow keys to navigate the left-side Categories list. Select a category and press the Tab key to jump through its options. As in Step 6, use the Tab and Arrow keys to set options in drop-down menus. Use Page Display Preferences to control how PDF files will open on your computer. (See Step 6 for controlling how your PDFs open and display on other computers.)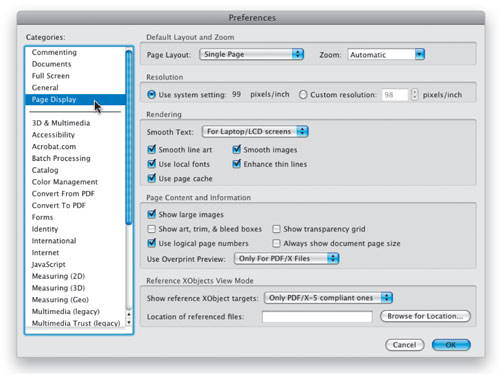 8 USE CONTEXT-SENSITIVE MENUS
Right-click to access context-sensitive menus on many PDF document features when working in Acrobat. For example, Right-click on a PDF document to view page options such as Add Sticky Note, Add Bookmark, and viewing Document Properties and Page Display Preferences. Note: You can also use this pop-up menu to rotate and navigate pages but these are more quickly accomplished with the shortcuts shown in Steps 2–4. This same contextual menu can be used to access spellchecking in a text field.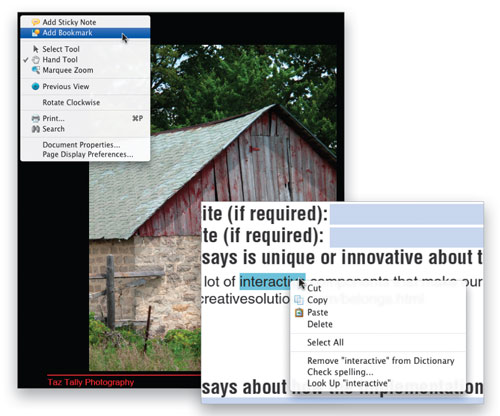 9 ADD AND DELETE PAGES
While there are many page-management functions in Acrobat, adding and deleting pages are the most commonly used. You can use straightforward keyboard shortcuts such as Shift-Command-I (PC: Shift-Ctrl-I) to insert pages or Command-Shift-D (PC: Ctrl-Shift-D) to delete pages. Either of these will activate a dialog through which you can navigate with your Tab and Arrow keys.
To access all of the page-management options—including Extract and Replace Pages—via a context-sensitive menu, simply Right-click on any page thumbnail in the Pages panel.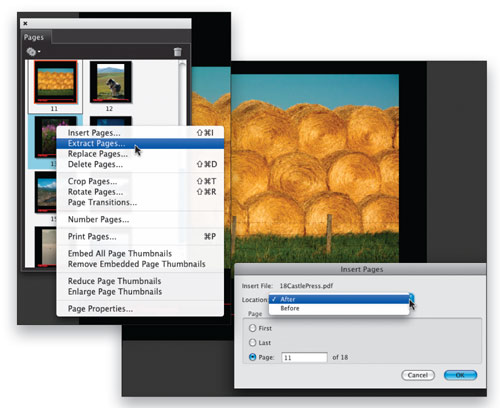 10 QUICK TOOL ACCESS
Many Acrobat tools can be accessed with single alpha key shortcuts. First, in Preferences>General, check on Use Single-Key Accelerators to Access Tools. Some of the more common tools that work consistently are: T=TouchUp Text tool, R=Select Object tool, L=Link tool, G=Snapshot tool, C=Crop tool, and A=Article tool. Shift-T will cycle through TouchUp tools, Shift-F cycles through form tools, and Shift-M cycles through multimedia tools.
To return to the Select tool, press the Escape key. To temporarily access the Hand tool, press the Spacebar. Press F8 to hide all toolbars for an uncluttered view of your page (this shortcut will not work if you have Enabled Spaces in the Preferences>Exposé & Spaces in Mac OS X).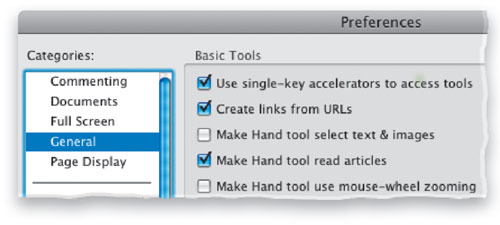 11 WORKING WITH PAGES
One of the best tools for working with multiple pages is the Pages panel (View>Navigation Panels>Pages Panel). Right-click on any page thumbnail to display a complete list of page control options. For instance, select Page Transitions to set page transitions for Full Screen mode. Or select Page Properties to easily access control of Tab Order and page Actions. Most of these options can be set for single, multiple, or ranges of pages.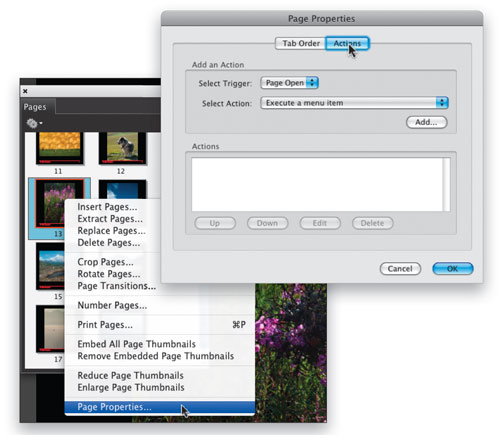 12 MAKE SHORTCUTS EVEN FASTER
You'll be able to work faster by using two hands when applying keyboard shortcuts, with one hand for the control keys and the other for the alphanumeric keys. For instance, when keyboard zooming in Step 1, you'll find it fastest to use your left hand to press the Command (PC: Ctrl) key while pressing + or – to zoom in and out.
And finally, try using the Tab and Arrow keys to navigate through the options in any open panel or dialog. If the Tab key doesn't work, try the Arrow keys!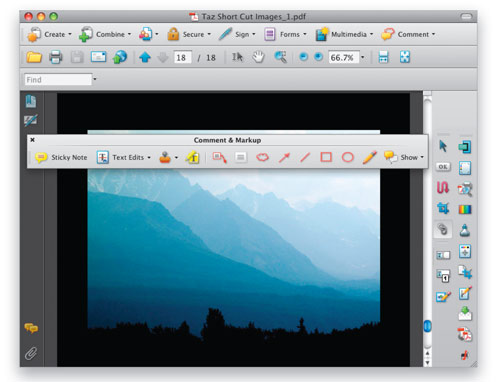 ALL IMAGES BY TAZ TALLY UNLESS OTHERWISE NOTED