Instant HD
Powerful app for up-converting SD footage to HD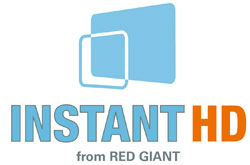 The world is moving to high definition, and if you're not there yet, you will be eventually. Once you get there, you may find the need to incorporate older standard-definition footage into your current high-definition projects or you may want to upscale a previously produced SD video to HD. Thanks to Red Giant Software's Instant HD, you can now do exactly that—easily and without breaking the bank.
Instant HD is an Adobe Premiere Pro, After Effects, and Final Cut Pro plug-in designed to upscale SD footage to HD quality without a lot of fuss. The only catch is that your footage has to be progressive, so if you're shooting interlaced, you'll have to convert your footage first. Hopefully in a future version, Red Giant Software will incorporate this conversion step into the plug-in making it truly a one-step process.
Instant HD couldn't be simpler to use. Once you've added the footage you want to upscale to the timeline, just apply Instant HD from the Effects menu. In the Effects Control tab you'll find five options: Output Size, Filter Type, Sharpness, Quality settings, and Antialiasing. You can use these controls to make selections manually or you can use the included presets. The results delivered by Instant HD were incredibly good, but be prepared for large HD file sizes. The clip used for this review started out as a diminutive 65-MB DV file, but after the conversion it finished at a whopping 2.5 GBs.
Red Giant Software continues to deliver on its tradition of producing reasonably priced, high-end, high-quality products with Instant HD. At only $99 you can't afford not to add it to you digital video toolbox.—David Singer
PRICE $99 (download); $129 (box)
FROM Red Giant Software
PHONE 260-625-5343
WEB www.redgiantsoftware.com
FOR Mac and Windows
LAYERS VERDICT
HOT Inexpensive; quality HD up-converting
NOT Footage needs to be converted to progressive first
RATING 4.5