HP Photosmart B8550 Printer
PHOTO INKJET OFFERS QUALITY RESULTS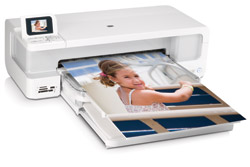 The first thing I noticed about this HP printer was its overall sleek design, making it appear as if it had been designed by Apple rather than in a former Soviet Bloc tank factory. Looks aside, the HP Photosmart B8550 offers features such as dual paper trays and a built-in card reader with a 2.4″ LCD that's designed to allow printing without a computer (though I don't see a pro using that feature).
The B8550 uses a dye-based, five-ink printing system to produce archive-quality images with an expected 100-year lifetime, which is a lot longer than the life span of any client. I had some doubts about how prints would stack up against printers offering more inks, but I was pleasantly surprised at how good the B8550 prints appeared. The colors were vivid and the detail was sharp.
The B8550 uses a dedicated black cartridge for nonphoto work, which means I can use the same printer to print invoices from the main paper tray and photos from the upper photo tray (max size 5×7″) without swapping paper—a very thoughtful feature. (The lower tray can also be used to print photos.) The B8550 can print images up to 13×19″ (super tabloid). When printing standard photo sizes, the speed of the printer and cost per copy appear competitive with others in its class.
Overall, I like the look and feel of the printer. I was able to achieve excellent color accuracy and quality. Its price ($249.99) and feature set make it appear to be positioned as a high-end consumer printer but it would also serve the professional for a majority of the prints used in wedding and portrait work.—Dave Huss
Company: Hewlett-Packard
Price: $249.99
Web: www.hp.com
Rating: 5
Hot: Dual paper trays; low price
Not: