FreeSpin3D
MAKING FLASH 3D ANIMATION EASY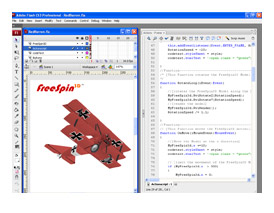 Attention Flash designers: Have you ever wished you could include interactive 3D objects in a Flash movie or game without having to be an ace programmer? If this describes you, then you'll want to check out FreeSpin3D. This easy-to-use Flash component allows you to import and control 3D models in a Flash document.
FreeSpin3D's clear-cut control panel makes rotating and animating 3D objects in your Flash movie painless. The program's real magic, though, is how easy it is to add mouse and keyboard commands that allow the user to control an object. Adding user interaction is as easy as selecting a 3D object on the Stage, checking Keyboard Control in the control panel, and clicking the Plus button to open the Behaviors dialog. The window contains a drop-down menu listing four types of behaviors: BasicRotation, Freefall, Movement, and Sticky Object. The behaviors Freefall and Movement each contain motion presets such as Fall and Bounce and Fly.
Depending on the behavior selected, you can change values for the x- and y-axes, z-space, speed, acceleration, as well as customize the keyboard selection for the types of movement. Once you've made your selections and given the object an Instance name, FreeSpin3D writes the ActionScript 3 code needed to control the object. Editing the texture of a model is as simple as opening the object's symbol source folder in the Flash Library and locating and editing the texture JPEG files in Photoshop.
At the time of this review, FreeSpin3D was only available for Flash CS3. However, according to company CEO, Amir Fischer, an updated version with additional features is in the testing phase and will soon be available for CS4.—Cyndy Cashman
Company: Revolver animation & game technologies Ltd.
Price: $299
Web: www.freespin3d.com
Rating: 5
Hot: Easy to add interactive 3D objects without knowing ActionScript 3
Not: