Widescreen High-Definition 30″ LCD Display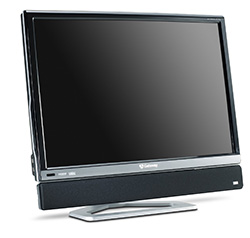 The Gateway XHD3000 30″ LCD bridges two worlds: for use as a computer display and as a home-entertainment center with its fortress of audio/visual connections. Input options include HDMI, component and composite video, S-video, DVI and VGA ports, as well as a six-port powered USB hub. There's an S/PDIF port for coaxial or optical audio output. The monitor is well designed with a sturdy metal base and solid hinge system to support smooth swings and tilts. Its elegant control panel is a set of built-in, touch-sensitive, blue-lit buttons that run along the front right side of the frame. As you touch the lights, onscreen menus and features pop up.
The XHD3000 has a native resolution of 2560×1600 using a graphic card that supports a dual-link, 24-pin DVI connection. The results are beautiful saturated colors, crisp text, and a generous amount of space for Photoshop with all its panels, or multipage word-processor viewing. It's great for watching DVDs and fast enough for gamers with a response time of 6 milliseconds.
I calibrated and profiled the monitor. While the soft proofs in Photoshop CS3 were good, the color fidelity didn't match up to displays designed for precision color management. Colors are consistent edge to edge; however, the screen has a narrow angle of view. It ships with a remote control.—Steve Baczewski
PRICE: $1,699.99
FROM: Gateway, Inc.
WEB: www.gateway.com
RATING: 4
LAYERS VERDICT
HOT Advanced PIP lets you control size, opacity, and location of window
NOT Advanced picture control software runs only on PCs