Episode Pro
ALL-IN-ONE CROSS-PLATFORM MEDIA ENCODER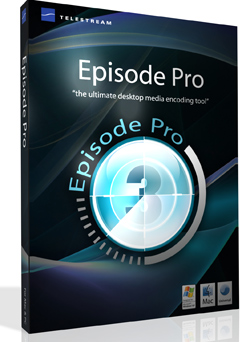 I was apprehensive about adding Episode Pro to my growing list of compression applications; however, I'm glad I did. It's truly an all-in-one solution for encoding on the Mac and PC.
The first thing that stands out about Episode Pro is the depth of the software. You can encode in literally every format and, even if you're not an expert with compression, it includes numerous presets for different workflows and formats. If you have a deeper understanding of compression, you can customize virtually every setting possible in a compression job, which comes in handy when you need to fine-tune compression to create the desired results.
Episode Pro allows you to set up watched folders that it will monitor, and when you drop a finished project into the designated folder, it automatically starts encoding with your desired settings. In addition, Episode Pro has intelligent monitoring that allows you to monitor subfolders, specify the file types you want to encode or ignore, and filter files to encode automatically. Plus, the software allows you to specify delivery destinations to automatically deliver files after encoding. One of the best features is a plug-in for Apple's Compressor that allows you to encode in all formats available in Episode Pro from one convenient and familiar interface inside Compressor.
Episode Pro is a sequential encoder, meaning it will encode files in order and needs to finish each file before moving on to the next. Also, it doesn't allow for distributed rendering between multiple machines on a network, even when using the Apple Compressor plug-in. If these features are important to your workflow, Telestream offers a product that does both called Episode Engine; however, it's four times the cost of Episode Pro.—Erik Kuna
Company: Telestream, Inc.
Price: $995
Web: www.telestream.net
Rating: 4.5
Hot: Automation; customization; ease of use; Compressor plug-in
Not: No distributed rendering; sequential encoding