CONVERT PDF FILES TO DOCUMENT, WEB, AND IMAGE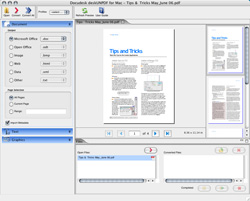 DeskUNPDF is an easy-to-use PDF converter with some interesting features: It can convert PDFs to Microsoft Word, Open Document, HTML, XML, Sony ebook, Excel, and image formats. It can also batch convert.
In my tests, I took three different PDFs—one created from Microsoft Word, one from Excel, and one from InDesign—and exported them back out to Word or Excel in an attempt to extract the text.
deskUNPDF did an adequate job on both the Word and Excel PDFs, but the InDesign PDF was virtually useless, even though I tried all the text formatting output options available (word processing, page layout, line by line, per character, and unformatted) and changed the default font settings to the same as the font used in the InDesign document. (It should be noted that I only tested the Macintosh version; the Windows version may produce slightly different results.)
Based on my limited results, I cannot recommend this product unless you use only conversions to Microsoft Word and Excel. Also keep in mind that according to Docudesk's website, "deskUNPDF was developed in response to the feature most commonly requested by deskPDF customers—the ability to make changes to a PDF without the need for Adobe Acrobat or Adobe Reader." So if you already have Acrobat Pro, a separate conversion utility isn't really necessary because most of these features can be found in Acrobat Pro. Other than the Excel PDF, Acrobat did a better job with the conversions.—David Creamer
PRICE: $69.95
FROM: Docudesk
WEB: www.docudesk.com
RATING: 2
LAYERS VERDICT
HOT Supports many conversion formats
NOT Doesn't work well with complex PDFs