Alias SketchBook Pro 2
Drawing application that will appeal to traditional artists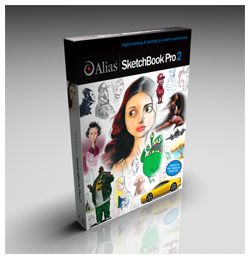 Alias SketchBook Pro 2 is a painting and drawing application designed specifically for use with digitized pen tablets and Tablet PC. It is also my favorite drawing application. Why? Its simplicity. You can learn all the major facets of the program within a few hours.
Some of the new features are the ability to resize brushes interactively; export capability to PSD files; smaller brush palettes; a translucent eraser; lasso select; the ability to move, rotate, and scale layers; straight line constraints; and more. Of these, one of my favorites is the ability to resize brushes interactively. A quick way of doing this is to hold down the B key and drag the pen across the tablet to resize the brush. I also like being able to resize layers. This is especially useful if you've imported an image and you need to scale it.
One of the reasons for the simplicity of SketchBook Pro is the interface (called the lagoon), which you can position at the lower left or right corner depending on whether you're left- or right-handed. Selecting a tool is a simple process. When you press the pen stylus onto a tool, additional tools appear (choices include pencils, pens, markers, and airbrushes). From there, simply stroke or flick your pen through the tool you wish to use. Make sure you maintain contact with the tablet, otherwise the screen may not update. The Brush Editor controls edge quality (soft, solid, hard), size, opacity, roundness, stamp, and spacing. Note: If your pen has a barrel button, this software does not use it and it's recommended that you disable it.
SketchBook Pro offers a nearly limitless supply of transparent layers, allowing you to draw on top of a background image or document, and add notes, comments, and/or sketches.
Supported file formats include JPEG, PNG, GIF, BMP, PSD, and TIFF, but you can only save layers using the TIFF and PSD file formats. Saving to any other format flattens the image. Also, layers in files saved as TIFFs can only be read by SketchBook Pro, not by other programs.
The software offers up to 75 undos (erroneously stated as 50 in the Help menu): A limit of 30 is recommended. In the previous version, a canvas size of 8192×8192 pixels was available, but that has been reduced to 6400×6400. According to Alias, they reduced the canvas size because of limitations of address space and to increase stability and performance.
An important set of tools is the Backgrounds, images that assist the design aspects of drawing. The full set includes hundreds of backgrounds made up of grid lines and dots, lined pages, page layouts, charts and graphs, calendars and timelines, video screens, storyboards, perspective guides, musical notation, paper textures, games, and graphic elements, all in a TIFF format.
SketchBook Pro 2 continues the approach of its predecessor. If you're a traditional artist who wants to move into computer graphics, SketchBook Pro 2 is an excellent choice.
PRICE: $179.00 (download); $199.00 (boxed version)
FOR: Mac and Windows
FROM: Alias Systems Corp.
PHONE: 800-447-2542
WEB: www.alias.com
RATING: 4.5