Wacom Intuos3 6×11 – Wide-format pen tablet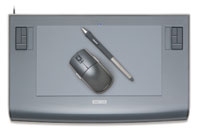 The popularity of using widescreen displays with graphics applications on the computer has led to the inevitable leap toward widescreen tablets. Recently, Wacom introduced the world's first wide-format pen tablet aimed at photographers, designers, and artists who are using multiple monitors or a widescreen display. While this tablet (or any tablet for that matter) may not replace a keyboard, I have to say it comes pretty darn close.
The Intuos3 6×11 features an active area and aspect ratio that's a great match to the screen aspect ratio of either a widescreen display or two standard displays used together. With the exception of its size, the wide-format Intuos3 offers all of the same features as the other Intuos3 sizes, such as 1024 levels of tip and eraser pressure sensitivity; two sets of ExpressKeys that can be used for mouse clicks, modifier keys, and keyboard shortcuts; and Touch Strips for quickly scrolling and zooming.
If I had to pick one thing to watch out for, it's the actual size of the tablet. The footprint of the Intuos3 6×11 is 16.5″ wide x 10.3″ deep. You'll need to make sure it fits in your workspace. As my primary device, I tend to keep my keyboard in front of me, with the tablet off to the side. Using that setup, I had to travel quite a bit to my right side to use the entire tablet. Because hard-core tablet users will inevitably welcome the extra tablet space, however, the size of the tablet is a real selling point.
PRICE: $369.95
FROM: Wacom Technology
PHONE: 800-922-9348
WEB: www.wacom.com
FOR: Mac and Windows
RATING: 4 1/2