Toast 7 Titanium

Full-featured media burning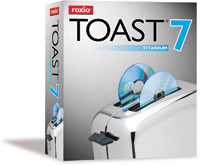 Toast 7 Titanium by Roxio
Roxio's Toast 7 Titanium has more features and reliability for those who need a third-party disk-burning solution. One notable addition is iLife integration: A single click on the media tab lets you drag-and-drop any item in any of your iLife apps. Creating disk images, duping disks, and HD support are all on board and you can also record on the fly with CD Spin Doctor Desktop Recorder Dashboard.
In addition to Toast It, which works well and easily archives endless data to CD or DVD backup files, Toast 7 Titanium adds Mount It, which instantly mounts disk images and also offers FLAC support. Toast now supports the latest QuickTime codecs to archive H.264, 3GPP, and DivX formats, allowing you to back up data from a cellphone, 5G iPod, or other compatible device. Roxio has even built in one of its applications called Popcorn, so that unprotected DVDs can be duplicated.
Toast 7 Titanium creates beautiful DVDs from digital images, audio, and movies—you just drag in the files, click Edit to personalize the arrangement, then click Text or Slideshow, and burn to your heart's content. My only real negative issues with Toast 7 Titanium are unrelated to disk burning. I use the application to create a disk image prior to burning and, while this is a simple operation, the mounted image doesn't always produce the video content. Also, the interface could use an update to its appearance similar to the product packaging.
Toast is still the industry-standard for disk burning and offers a reliable, feature-rich, quality way to create and use CD/DVD media on your Mac.
PRICE: $99.95
FROM: Roxio
PHONE: 866-280-7694
WEB: www.roxio.com
FOR: Mac
RATING: 4 1/2