ToonIt!
GIVE YOUR VIDEO FOOTAGE A CARTOON LOOK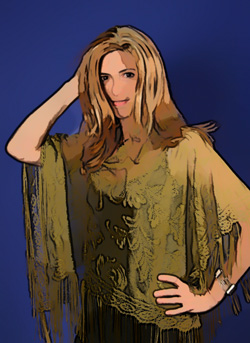 ToonIt! is an Adobe After Effects plug-in that comes with four filters for achieving a cartoon look without the time-consuming exercise of rotoscoping and painting frame-by-frame. ToonIt! uses the render code from Toonamation, licensed by Digital Anarchy specifically for animators and video editors. The filters—Roto Toon (the one you'll use the most), Outlines Only (my favorite), Goth Toon, and Blacklight Edges—won't give you the "Charles Schwab Commercial" look (which uses a different process); however, they'll allow you to create great pen-and-ink looks, flat cartoon styles, line art, graphic novel, and comic-noir styles of animation.
Using After Effects 7 on a dual-core, 2.6-GHz Intel Mac Pro, it took on average 2 minutes to render every second of footage with ToonIt! filters applied—or about 1 hour of rendering for every 30-second clip. A speed demon this plug-in is not! But when I used After Effects CS3 on a quad-core, 2.8-GHz Intel Mac Pro, it cut the render time in half. This is because After Effects CS3 has a Render Frames Simultaneously checkbox in its Preferences (turn this on!) that renders multiple frames on each of the individual processors, provided you have enough RAM.
Digital Anarchy points out that "ToonIt! will never be a real-time or even a semi real-time product, so please plan your render time accordingly." However, the company is planning a free 1.1 version that will include speed upgrades and optimization, along with multiprocessing support.
—Rod Harlan
PRICE: $295
FROM: Digital Anarchy
WEB: www.digitalanarchy.com
RATING: 4
LAYERS VERDICT
HOT Easy to use
NOT Slow render times