Toast 10 Titanium Pro
CD/DVD MEDIA AND AUTHORING STUDIO FOR MAC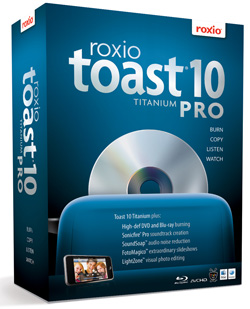 Burning CDs and DVDs is built into most operating systems, so it amazes me that the value for this product remains. With the tenth version of Toast sporting tremendous updates, improvements, and revisions, Roxio continues to provide more than just a better burning option. Having reviewed every version over the years, I'm still impressed because with each version Roxio bundles even more tools for a very well-rounded suite for burning and archiving your media.
Roxio is moving forward and responding to the new formats, technologies, and the demands of their customers. According to Vito Salvaggio, Sonic Solutions V.P. of Consumer Products, "We want to make sure that, as consumer usage patterns change and evolve, our product evolves with [them]." It was an expected pleasure to find support for the newer AVCHD video archive type (used by newer models of HD camcorders) and that things such as Disc Cover and CD Spin Doctor are still there, too.
The Toast 10 Titanium Pro package includes versions of SoundSoap (noise-reduction audio software); FotoMagico (HD image presentations); LightZone (image editing); Streamer (content streaming to iPods, iPhones, and other mobile devices); and Sonicfire Pro (soundtrack editing for video), plus support for Blu-ray and high-definition authoring. Salvaggio continues, "We asked ourselves, 'Wouldn't it be great if we could move the entire contents of the camcorder to a pristine archive?' so you can archive and back up your in its original high-def quality." The answer is, indeed, yes.
Is Toast a necessity? If you find yourself doing a lot of archiving, video, and duplication of media (including iPods, iPhones, and external drives), then the answer is, again, yes. Toast 10 will save you a lot of steps and expenses with great results.—Daniel M. East
Company: Roxio
Price: $149.99
Web: www.roxio.com
Rating: 5
Hot: Full-featured; easy to use; superior to OS disc burning
Not: