NIKKOR AF-S DX 18–105mm f/3.5–5.6G ED VR
COMPACT, VERSATILE ZOOM LENS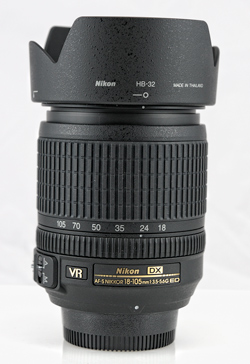 Nikon has crammed a lot of features and zoom range into a compact, lightweight, and inexpensive little powerhouse, the AF-S 18–105mm f/3.5–5.6G ED VR lens. This dynamo packs a 5.8x zoom in a body that weighs less than a pound and is a mere 3.5″ long. As if size and weight aren't enough, the lens includes an alphabet of Nikon features that's longer than the lens itself.
Incorporating Vibration Reduction (VR) technology, I found Nikon's claim of being able to handhold the lens at shutter speeds up to three stops slower than normal to be right on, if not a bit modest. The light-gathering ability (maximum aperture) is about what you'd expect from a compact, lightweight lens at f/3.5–5.6, but the VR technology helps to make up for the lack of aperture speed in low-light situations.
Not only does the lens have an ED (extra-low dispersion) element, there's an aspherical element as well—which is optimized for digital SLRs—rendering a tack-sharp image. Exclusively designed for digital SLR cameras with a DX sensor, the zoom range of 18–105mm (27–157.5mm equivalent) is great for photographing subjects from landscapes to portraits. And with a minimum focus distance of 1.5′, it works reasonably well as a close-up lens, offering up a 1:5 reproduction ratio.
In actual use, the AF-S Silent Wave Motor was very quick and accurate to acquire and lock focus. The nonrotating front element makes it a breeze to use a polarizing filter without having to fine-tune it once it's adjusted.
Who is this lens for? Anyone who wants a small, lightweight, affordable lens that covers a wide range. I consider this the "everyday" lens for owners of DX-format digital SLR bodies.—Laurie Excell
Company: Nikon USA
Price: $399.95
Web: www.nikonusa.com
Rating: 5
Hot: High resolution, compact lens with Vibration Reduction
Not: