The Photographer's Handbook: Control the Light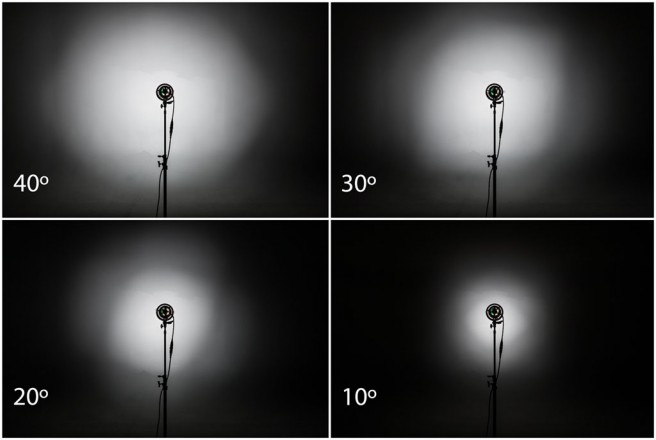 Controlling where light falls is every bit as important as setting how much light strikes the subject. Softboxes, strip lights, beauty dishes, and heads with reflectors produce different qualities of light. They also scatter more of it than is needed most of the time. Light from these sources illuminates the subject and everything else, as well. 
Here's a part of the cyc wall (cyclorama) in my studio lit with a single Dynalite location head.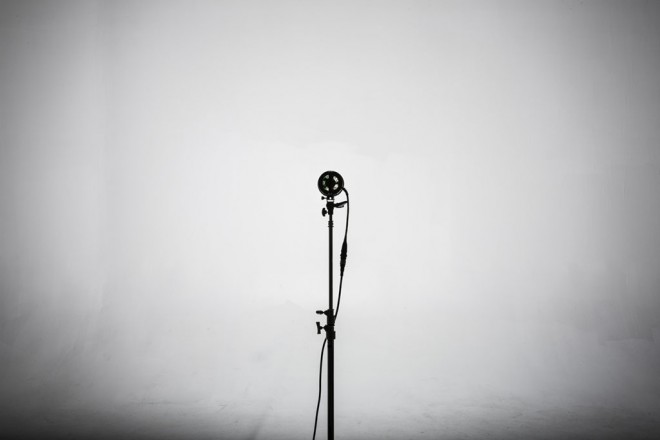 It's shot with a Sigma 35mm f/1.4 lens on a Canon EOS-1Ds Mark III at ISO 100, f/11 at 1/250. The entire wall has light on it. Lovely if I want to see the whole thing; otherwise, not so much. Isolating just a part of the wall calls for using grids.
Grids that fit in reflectors are usually made of aluminum honeycomb material that was originally used to strengthen aircraft wings. The thickness and frequency of the honeycomb determines the amount of spill each one allows: The higher the frequency, the smaller the angle of light that reaches the subject. The Dynalite grids in this image have their coverage angle clearly tabbed. The plastic, heat-resistant tabs help remove a grid from the light's reflector.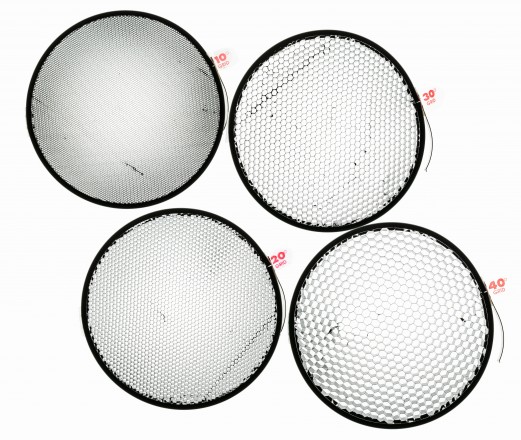 Tip: Grids on heads with modeling lights get very hot, so be careful, especially when taking one off. 
Visually, here's what the different angles do. For this series, the electronic flash head is in the same position as before. Compare that to the light with the four grids: 40°, 30°, 20°, and 10°.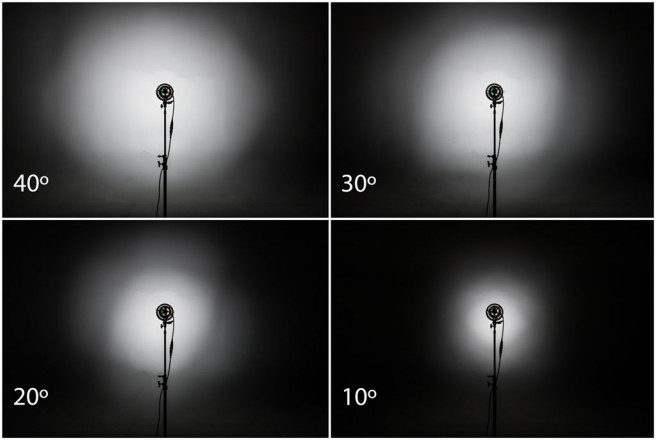 Soft 
Spotlights
How many times could a soft spotlight be the perfect light? A "soft" spotlight? I'm kidding, right? Not really. We all know that spotlights are harsh and cast sharp-edged shadows. Imagine a figure skater flying over the ice in that dazzling circle of light: She's trailing a graceful but distinct shadow. A light is soft only when it's big in relationship to the subject, which means that it's going to throw light everywhere. So, a soft spotlight is impossible—or is it? Only if your definition requires a hard-edged circle of light. Here's the formula: Take one beauty dish, add a grid over it, then move it close to the subject. Voilà! You have a soft spot. 
There are a couple of things you need to know about any gridded light source. First, adding a grid reduces the brightness of a light, so always meter again after adding one. Second, grids make sources very directional. See what happens when a beauty dish is feathered slightly away from a subject then has a grid added? All of the light is channeled away.
When shooting a model, I show her the center of the gridded light, and ask her to make sure that she can always see the center. This ensures that her face is properly lit.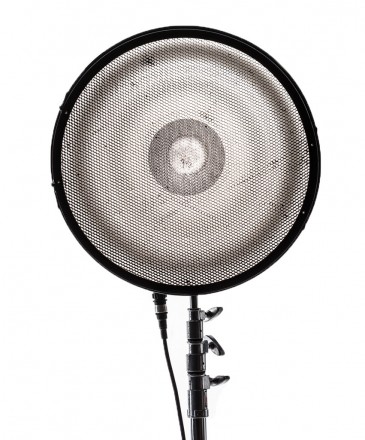 Softbox 
Grids
Best of all, the soft spot doesn't have to be round. There are grids for softboxes, too. Lighttools (www.lighttools.com), a Canadian company, makes grids in 20–60° for most manufacturers' light banks. These ultralightweight grids are made of nylon fabric. Folded, they're compact and easy to pack in a collapsed softbox's carrying case for location work. I use them on my medium, large, and large-strip Chimera Super Pro II banks and on a pair of Rime Lite 12×71″ strip lights. I can't imagine lighting without them.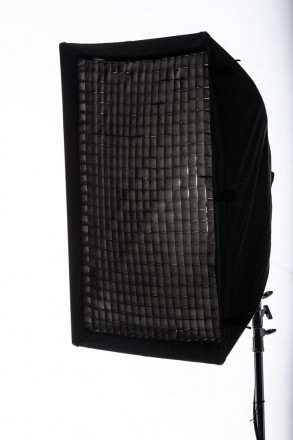 Gridded 
Lights i
n 
Use
Grids are perfect for directing light exactly where you want it to go. This photograph of Chosen model Jason McAlister shows what I mean. It's lit with just two lights, both of which have grids. The main light is a Rime 12×71″ strip with a Lighttools 30°/50° grid—30° of the light shows on two sides while 50° shows at the other two. This softbox is powered by a Dynalite 800 RoadMax Pack set at 200 Ws into a bare-bulb studio head. I clipped a Rosco #3407 5500°K (daylight) to 2900°K (candlelight) conversion filter on the front of it to create the warm, firelight glow. The painted background from C&M Backdrops is lit with a 22″ Mola beauty dish and grid-mounted on another Dynalite studio head. It's also receiving 200 Ws of power. I made it just bright enough to separate Jason from the background. 
The strong side light from the strip bank highlights Jason's arms, chest, and abs. I finished by adding a small silver reflector to fill in his face. I shot the photo with a Canon EOS-1Ds Mark III and Sigma 70–200mm f/2.8 lens at 128mm. The exposure was 1/250 at f/8, ISO 100.
Grids focus viewers' eyes exactly where the photographer wants them to look. In my mind, no lighting kit is complete without them. Until next time, light well, and prosper! 
Read more from Kevin Ames as he covers plenty of topics for us in the Photographer's Lighting Handbook series posted here on KelbyOne.com/blog -truly a great resource on lighting for those wishing to understand light and how it plays a defining role in our images. Or try a course on KelbyOne like this one on Snapseed for editing your images with this App.