#KelbyOneChallenge! (#3: The Flower Shot)
Hey everyone! Ajna here. It's really great to be here on the blog! We have been having so much fun on social media lately, and we want to be sure you are not missing any of it. So, here's something fun we started recently: To recap, or to catch you up, we have posted two #KelbyOneHomework assignments and the response has been GREAT. (See our Pinterest board with assignments and submissions here.)
We previously called these weekly social-media assignments #KelbyOneHomework. But after seeing all the amazing work you were submitting, we thought … let these be challenges! With WINNERS! And Prizes! (Because, you know how we roll at KelbyOne.)
OK, so here we are, at #KelbyOneChallenge #3! For this challenge, we pull our inspiration from an image that Scott Kelby recently posted on his blog (here) following his trip to the French Riviera. You can see a full album here.
I loved Scott's pics so much that I decided to pull our next few challenges from its pages! If you have a photography challenge in mind — something you especially want to try out — please leave a comment here and let me know and we can do the challenge together. OK, so let's get started!
CHALLENGE 3: The Flower Shot
WHAT: The Flower Shot
WHEN: Submissions accepted from 5/6 – 5/11 (at midnight EDT)
WHERE: Post no more than 3 images (total) to Facebook, Twitter and/or Instagram. (You must tag us, and be following us on the platform you submit to.)
WINNERS: We compile all of the social-media posts (that qualify) from Facebook, Twitter and Instagram, and we put them into an album, which is then shared with Scott Kelby or one of our Photoshop Guys, who will choose a winner. Winning images are elected for publication in an issue of the popular Photoshop User magazine.
YOU MUST:
– Post your submission to Facebook, Instagram or Twitter by 5/11 at midnight EDT
– Include a credit (Your name and social-media handle/s)
– Include a caption (Tell us what the pic is about, what was going on and where it was taken.)
Ready? Set? Go! Here is your Challenge Image complete with directions from Scott Kelby!
CHALLENGE IMAGE
By Scott Kelby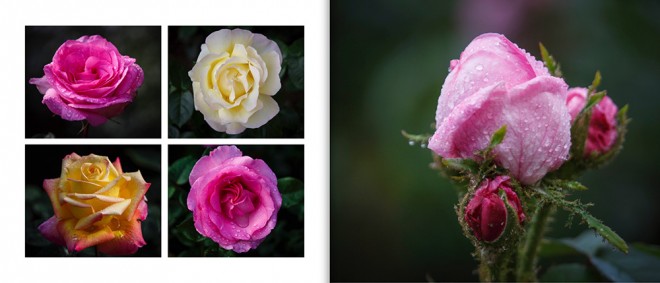 Use this image as reference, inspiration, direction, as a starting point, an example of what you could do for this assignment. As always, put your own creative spin on it.
DIRECTIONS
When to Shoot Flowers
By Scott Kelby
Excerpt from The Digital Photography Book, Part 1, Second Edition
There are three ideal times to shoot flowers:
(1) On cloudy, overcast days. The shadows are soft as the sun is hidden behind the clouds, and the rich colors of the flowers aren't washed out by the harsh direct rays of the sun. That's why overcast days are a flower photographer's best friend. In fact, there's probably only one other time that's better than shooting on an overcast day, and that is …
(2) Just after a rain. This is a magical time to shoot flowers. Shoot while the sky is still overcast and the raindrops are still on the petals (but of course, to protect your digital camera [and yourself], don't actually shoot in the rain). If you've got a macro lens, this is an amazing time to use it. While you're shooting macro, don't forget to shoot the raindrops on leaves and stems as well, while they're reflecting the colors of the flowers (of course, don't forget to shoot on a tripod if you're shooting macro.)
(3) If you shoot on sunny days, try to shoot in the morning and late afternoon. To make the most of this light, shoot with a long zoom lens and position yourself so the flowers are backlit, and you'll get some spectacular (but controlled) back lighting.
Do you accept the #KelbyOneChallenge? If so, get shooting and posting! Have any questions, comment here and I will be back with answers! -Ajna
PS — A special thank you to Kim Doty, KelbyOne Book Editor, for providing the instructions from our books for our weekly KelbyOne Challenges! She's awesome, so follow her: Twitter / Facebook / Instagram.