The Naked Truth: More Websites You Might Not Know About
Back in the July/August issue of Layers magazine, I told you about 10 cool websites that I visit every morning to get a quick look at what's happening in our industry. For a quick recap, here are the 10 not-so-lesser-known-since-I've-already-told-you-about-them sites:
What I like so much about these websites is that they give unique insights into the industry, but more importantly, they also offer tips. (And if you read my "Letter from the Editor" in this issue [p. 6], then you know how I feel about tips.) Hopefully, you've bookmarked these sites and have been visiting them every morning just like me.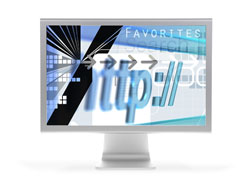 Well, since then I've added five more websites to that list, so I thought it was time to revisit the topic. So here we go with "More Websites You Might Not Know About." Okay, this article should really be called, "Lesser-Known Websites I Visit Every Day, Except for the Ones That Don't Post Anything on the Weekends," but then you probably wouldn't read it. Why? Because it's about me, instead of you, and you only want to read things about you because you're so you-oriented. (Personally, I would prefer that you were more me-oriented.) In fact, I'll bet you bought this magazine just so you could learn some new techniques, to help you in your business, so you can make more money, so you can buy yourself some more nice things for your house. (See what I mean about your "you" thing? It's kind of sad. Really.)
Anyway, some of these are only lesser-known because they're so new, but I thought you'd want to know about them; some have been around and are steadily growing their audience; and some have a huge audience already, but I want to make sure you're part of that audience, because after all, I care about (who?), that's right—you. That's why I'm sharing this list of important sites for creative people (yes, like you) so you can make your life more fulfilling for you and your friends.
These sites I'm about to unveil (to you), plus the 10 mentioned above, run the gamut from being about design, photography, our industry, and anything I think might help you (and yours). They're not in any particular order, so let's start with #1 because, well, it's first:
Lightroom-News.com (www.lightroom-news.com)
This new site is the sister site to the popular PhotoshopNews.com, and the editors are Jeff Schewe, well-known Photoshop insider; and Martin Evening, the famous London-based Photoshop author, instructor, and fashion photographer. Although the site just launched, it's off to a great start, and has some great heritage behind it, thanks to it being a part of the PSNews family. If you're into Adobe Photoshop Lightroom, this site has to be on your daily must-visit list.
Daily Tips to Improve Your Photography (http://dailyphototips.blogspot.com)
Dave Cross (http://davecross.blogspot.com) recently turned me on to this one. This site gives a photo tip every day, but not just in the short "Tip 1," "Tip 2" style; there's more meat to it than that. The tips are well done, well illustrated, and the site is very useful all the way around. If you're new to digital photography, this should become a must-visit site, as the author, Daniel J. Watkins, does a nice job in helping new users along.
Moose Peterson's News Blog (www.moosepeterson.com/moosenews)
If you're a photographer, you're going to love this site—if not for Moose's amazing outdoor and wildlife photography, then for his real-world reviews of pro high-end camera gear and accessories. Much like Terry's blog from my original list of sites, it gives you the straight scoop that you're not likely to find presented in the same way anywhere else. Although it's not updated every day, it's updated frequently enough that I check it every day just in case.
Photoshop Insider (www.scottkelby.com)
Okay, this is my personal Photoshop blog, but it's little known as well. Because I publish it for my personal friends and NAPP members, it's very photography- and Photoshop-oriented. I update the site almost daily, and I try not to post things that you can find everywhere else. I wouldn't call it a news blog (although I do include some news) because it's more just stuff that I would tell a friend, which can be anything from the scoop on a new piece of gear I've been trying out, to a site somebody turned me on to, to links to cool Photoshop work or photography, and even to some cool unrelated Photoshop stuff from time to time. I also post some of my own photography and lots of info on photo gear, studio lighting, location lighting, and plug-ins. Plus, I usually list where I'm teaching on the road and post on-location reports. If you haven't seen it yet, stop by and say howdy.
Lightroom Killer Tips (www.lightroomkillertips.com)
This is my buddy Matt Kloskowski's site. Although the site was launched as a blog to support his Lightroom Killer Tips video podcast (available free on the site, or as a free subscription on iTunes), Matt posts Lightroom-related news and tips at least three days a week, and the popularity of the site (and his podcast) is soaring. The site is very nicely designed (it has a very Lightroom look and feel to it), and there's already lots of information there, so it's worth a good Saturday afternoon to soak it all in.
So, my friends, there you have it—a cornucopia, a plethora, a veritable salmagundi (or at least 15) of important, yet under overexposed sites that are worthy of your (yes your) attention and visitation. Have fun!