SymmetryWorks 4
Illustrator plug-in for quickly creating complex patterns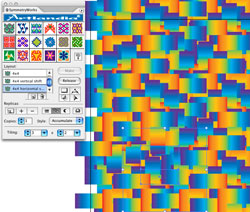 Making simple patterns in Illustrator is fairly easy—making complex, overlapping patterns is another matter. It requires some practice to get them just right— SymmetryWorks 4 to the rescue.
This plug-in has a deceptively simple, single palette, but it takes a while to get the hang of all the options—it's fun playing with the settings and seeing the results. Even simple boxes filled with a gradient, or a series of color circles can generate some interesting patterns. If you come across a pattern you like, you can save the settings for future use. You can also create Illustrator patterns from the art, which can be exported and shared with others.
Complaints are few. The biggest one is a wish to save the SymmetryWorks art and settings in a swatches or graphic styles-like palette. Although the settings can be saved, the art must be saved as a separate file (or layer)—or saved as a standard Illustrator pattern (no longer editable in SymmetryWorks). Also, creating Illustrator patterns could be slightly more automated: the plug-in can create the bounding box for you but you have to send the box to the back and then save the pattern—you'd think the last two steps could be automated. Finally, perhaps the PDF manual could be bookmarked and the index hyperlinked, especially because the page numbers don't match the PDF numbers (an easy fix).
If you're involved with any pattern-related industry (such as the textile industry), or even if you just like making patterns for ad designs, you really need to look at this plug-in. If you're a Photoshop user, they have a similar plug-in for that application.—David Creamer
PRICE: $255 ($99 upgrade)
FROM: Artlandia
PHONE: 888-972-6366
WEB: www.artlandia.com
FOR: Mac and Windows
RATING: 4.5
LAYERS VERDICT
HOT Great for making complex patterns
NOT Doesn't automate creation of illustrator patterns