StoryBoard Artist 4
Professional and easy storyboard creation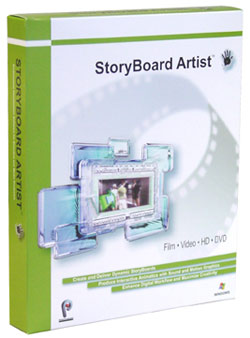 Storyboards can help you sell your idea and save you time and money in production; however, they can also be expensive to make unless you're a talented artist who can create them yourself. Even then, creating storyboards by hand will eat into your time and budget. Enter PowerProduction Software's Storyboard Artist 4, which makes the creation of Storyboards a simple task.
Storyboard Artist 4 is stable and reliable. It ships complete with a starter library of locations, characters, and props for you to use in creating your storyboards. If you find that you need more, you can buy add-on packs to expand these libraries. You can also bring in your own images. With support for Photoshop layers and transparency, and image formats including JPEG, TIFF, PNG, and more, you can photograph the actual locations where you'll be shooting and use them in your storyboards. You can import your script from a selection of scriptwriting programs, as well as any Word or text file.
With this software, you can perform all of your basic storyboarding tasks and a whole lot more. Storyboards can be generated into animated files complete with pans and zooms. With a timeline view similar to those found in nonlinear editors, you can specify frame durations, transitions, and up to four tracks of audio so you can include dialog, music, and sound effects.
Storyboard Artist 4 brings the creation of professional storyboards to everyone and does so at an affordable price. Its ease of use and flexibility will have you creating effective storyboards in no time. This is one of those essential tools that will separate you from the pack and give you the competitive edge.—Dave Singer
PRICE $799.99
FROM PowerProduction Software Inc.
PHONE 800-457-0383
WEB www.storyboardartist.com
FOR Mac and Windows
LAYERS VERDICT
HOT Quick; easy; professional storyboard creation
NOT Requires USB key (pay full price for lost key)
RATING 4