Squeezebox Boom
IMPRESSIVE SOUND FROM A LITTLE BOX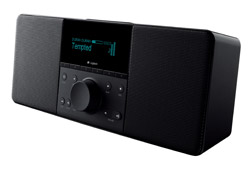 Logitech's Squeezebox Boom is an all-in-one music player that can stream music to any room in your house over an 802.11g wireless network. It delivers impressive, distortion-free sound over its integrated 30-watt amplifier via two ¾" tweeters and two 3″ woofers.
The compact box measures 5(H)x13(W)x4(D)". On the front between the speakers are a large fluorescent display and a clearly labeled control panel with a large rubberized navigation wheel for scrolling through the menus. On the top is a snooze bar. The magnetized remote can snap onto a refrigerator or in the well on the Boom's top. On the back are jacks for connecting an MP3 player, headphones, external subwoofer, and Ethernet in lieu of Wi-Fi. Setup is straightforward: plug in the power cord and follow the setup wizard on the display. Once online, the Boom downloads the latest firmware.
Logitech provides two comprehensive, easy-to-use music sources. The first is Logitech's SqueezeCenter application, which allows you to stream from your personal music library stored on your computer. SqueezeCenter accessed all my songs from iTunes except for DRM-encrypted music. The second is SqueezeNetwork, which is Logitech's free Internet-based music service. SqueezeNetwork's thorough list of radio stations is broken down into music genres, podcasts, and free services. Your favorite stations can quickly be assigned to one of the six preset buttons on the Boom's control panel. You can also store your own music collection in an online MP3 music locker.
The Squeezebox Boom supports nearly every audio format including AAC, WMA, MP3, AIFF, WAV, etc. Squeezebox Boom generally performed very well, but was sometimes sluggish connecting to a station. The sound is remarkable.—Steve Baczewski
Company: Logitech
Price: $299.99
Web: www.logitech.com
Rating: 4.5
Hot: Crystal-clear sound anywhere
Not: Nonintuitive menus; no battery option; no handle for transporting