ProScale ID
INDUSTRIAL-STRENGTH SCALING PLUG-IN FOR INDESIGN

The Scale tool in InDesign is fine for resizing selected objects on a page. But when you need to resize an entire document, especially one with multiple pages or to a vastly different shape, you need an industrial-strength tool—one that has some intelligence built in. That's the purpose of ProScale ID, a plug-in for InDesign CS–CS4 that lets you resize a multipage document with control over what gets scaled, and how.
ProScale ID allows you to nonproportionally scale all the pages of a document, including the text, while maintaining line and stroke widths. In many cases, you can use it to resize an ad to a new shape, and the result is 90% done. I used it to resize a multipage book chapter to a new page size with a different aspect ratio than the original. The result required some resizing of the text, but all the frames were in perfect position.
There's a useful Fit To menu for common sizes such as A4, A5, business card, CD cover, banner ad, 1/3 page, 1/2 page, letter size, tabloid size, etc. It's great for converting letter-size to A4, and its Bleed preset is useful when you suddenly need to include the bleed area inside the document page. If you often resize documents to the same dimensions, you can save your settings as a preset.
Now for the problems: ProScale adds a tool to the Toolbox that I couldn't make work, but it duplicates the InDesign Scale tool, so you can ignore it. Also, saving a preset can be a challenge because the Save button is grayed out until you temporarily click the Default button.
If you need to resize a book, ProScale will pay for itself in the first use. If you often resize ads and other collateral material, it will save you lots of time and energy.—Jay Nelson
BEFORE

AFTER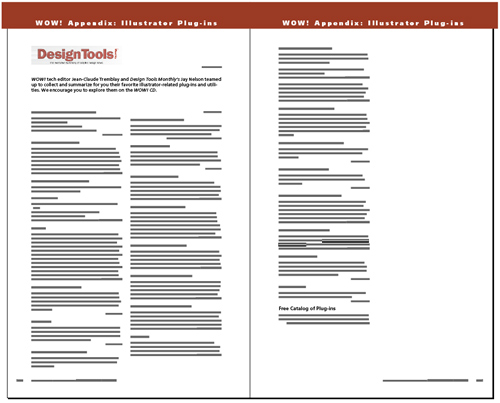 Company: GLUON, Inc.
Price: $149
Web: www.gluon.com
Rating: 4
Hot: Saves time when resizing complex or multipage documents
Not: Toolbox tool is useless; saving presets has interface glitch