PictureMate Zoom – PM 290
Small-format photo lab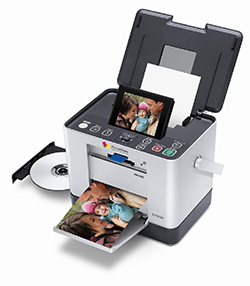 Epson's small-format printers continue to evolve with the high-end PictureMate Zoom – PM 290 model. It boasts faster printing speeds, a larger 3.6″ flip-up LCD for easier viewing and editing of files, a handy built-in CD burner for backing up files, a simplified control panel, and more layout options.
The Zoom weighs 6.6 lbs and when opened measures 9.1×13.6×11.6″. It's easy to set up and has a user-friendly menu filled with features that make it a versatile home photo lab. You can crop and rotate; adjust the brightness and saturation; add decorative borders; and make color, black-and-white, or sepia-toned prints. With a maximum resolution of 5760×1440 dpi and a 3-picoliter droplet size, the Zoom produces excellent prints with rich detail and vivid colors. The one limiting factor is the 4×6″ print size.
The two USB ports allow printing directly from PictBridge cameras, external hard drives, or flash drives. It can read most popular memory cards directly from one of two built-in memory card slots. With an optional battery ($49.99), it becomes a practical portable printer for quick proofs in the field.
The Zoom prints on either matte or glossy paper from the same four-color ink cartridge. The prints have a 200-year print life when kept in a scrapbook. The average print took 37 seconds as claimed, and it performed without a hitch.—Steve Baczewski
PRICE: $199.99
FROM: Epson America, Inc.
WEB: www.epson.com
RATING: 5
LAYERS VERDICT
HOT Quality prints
NOT