PhotoFrame Pro 3
Photoshop plug-in for adding frames to images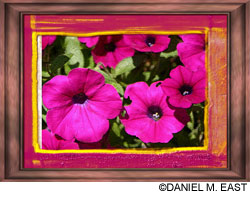 PhotoFrame Pro has been a staple in the Plug-Ins folder for many Photoshop users for a long time. The ability to create a frame effect that produced a mood or an attitude could make an image nearly speak. Like so many plug-ins, there were always a precious few that really looked good in real-life, and even fewer that would be used; however, those items could be the signature look for a photographer or designer. When onOne acquired titles from Extensis, the question was, "What will the difference be?" As onOne releases more and more titles, you'll see there are many differences and they're worthy of your investigation.
onOne added some features in response to requests from longtime Extensis fans, resellers, and from their own wish list. One of my favorites is the addition of a real-time preview grid and browser so that you can view your choices as you proceed. Another of my favorite features is the ability to add your frame as a new layer mask. This makes a dramatic difference, especially if you want to manipulate or edit the frame itself after placing the effect.
onOne also added a huge number of new frames of many types, including semirealistic-looking frames that emulate wood finishes and rustic surfaces. I really liked some of the acid effects: They're stunning and have depth that really jumps out when printed on a good quality paper. The ability to add matting that has texture and bevels works nicely, and all of this can be saved into the new Favorites feature.
On the downside, some frames and mattes appear to have extremely wide sides when used with wide-format aspect ratios, such as panoramic or letterbox images. According to onOne, compensating for this requires an undocumented (at the time of this writing) extra step whereby you change the frame's orientation by 90°. Further, while the new interface is easier to navigate, it's a lot to address with a modest learning curve. Searching for frame titles is great if you know what you're looking for. The randomizer can be a nice feature; however, I found its "choices" to be less attractive and somewhat useless for my taste. It's intuitive, but users might benefit from the new online tutorials available from the onOne website.
There's more to PhotoFrame Pro 3 than Extensis ever included in their versions of this product, and the latest edition is definitely worth the $159.95 price tag for those with a need for this type of add-on. onOne has also acquired Genuine Fractals and other former Extensis titles and placed them into a suite of plug-ins called, you guessed it, the Photoshop Plug-In Suite. This includes Genuine Fractals 4.1, Mask Pro 3, and Intellihance Pro 4 (also formerly of Extensis), as well as PhotoFrame Pro 3.
What intrigues me about these products is as much about onOne's mission as it is about the products. They "get it" when it comes to the needs of the people who use this type of product and they listen to suggestions from the end-users in order to improve upon things that already exist. They've kept the familiar brands, instead of releasing them under new titles, and added to the reputation of some good quality items by elevating them.—Daniel M. East
PRICE $159.95 US Full/$69.95 upgrade
FROM onOne Software
PHONE 888-968-1468
WEB www.ononesoftware.com FOR Mac and Windows
LAYERS VERDICT
HOT Improved interface; more options and control
NOT Odd aspect ratio output with some frames
RATING 4