On2 Flix Pro 8

Flash video made easy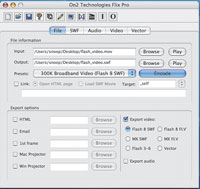 On2 Flix Pro 8 by On2 Technologies, Inc.
On2 Flix Pro 8 makes adding high-quality video to your website or any digital application simple, quick, and affordable. The program's one-step presets allow you to convert digital video, such as QuickTime, to Flash video (FLV) or Flash movies (SWF) and output it for delivery for 56k, 300k, 512k, and 1,000k bandwidths.
Installation on my 17" PowerBook G4 with Mac OS 10.4.3 was a snap. The 1.33-GHz system is configured with a modest 512 MB of RAM. The first screen appearing after launching the program is the dialog window. In this window, you choose the file you want to convert, where to save the file, and, from a list of presets, the format in which you want the file encoded. If a preset meets your needs, just select the preset from the drop-down menu and click the Encode button. In a matter of seconds, or minutes depending on the size of the video file, Flix outputs and plays the converted file.
The presets are divided into groups: Flash 8 SWF and FLV Video, Flash MX SWF and FLV Video, Flash 3+ SWF Video, Vector SWF Video, and Audio Only SWF and FLV. You can, however, create and save your own custom settings by specifying different export options and conversion settings for the converted file. If you need to convert multiple files, you'll be happy to know that Flix can batch process files. Flix can also output your file as a Flash player complete with pre-built controls. The built-in edit, crop, fade, and image filter features are robust enough for basic editing. You can change in and out points, use the Cropping tool to select only the part of the video you want to encode, and specify the frame numbers you want to fade in or out. The six image filter options are: Deinterlace, Noise Reduction, Brightness, Contrast, Hue, and Saturation. No matter how easy a program is to use, there comes a time when you need help and Flix's Help files are logically organized and easy to read.
Flash MX SWF and Flash 8 SWF video output are brought into Flash using the ActionScript commands loadMovieNum or loadMovie. If you try importing one of these SWF files into Flash's Timeline, you'll only get a series of empty keyframes; however, Flash 3+ Video SWF can be imported into the Flash Timeline if you choose Create Importable SWF in the SWF tab. What surprised me was how quickly Flix converted my 90.86-MB test video. The original 26.49-second file specifications were: DV/DVCPRO—NTSC, 720×480 pixels, millions of colors, 29.97 fps, 28.77 MB/s data rate. From the presets I chose 300k Broadband Video (Flash 8 FLV). This preset scaled the output video to 320×213. Conversion took 1:41 minutes. The converted file's size was reduced to 864 KB. The quality was very good, with minimal pixelation and impressively smooth playback. Using the same video, I tried all of the other video presets and was pleased with the outcome of all the settings except for the Vector setting. In all honesty, my test video contained too much detail for conversion to vector video. The final file looked like a bunch of squares and triangles moving on a screen.
Flix comes in two versions: Flix Pro, which is available for both Mac OS X and Windows systems; and Flix Standard, which is Windows only. The Mac version contains somewhat fewer features than the Windows version; however, there's not enough difference for Mac users to avoid buying the software.
PRICE:$249
FROM: On2 Technologies, Inc.
PHONE: 646-292-3533
WEB: www.on2.com
FOR: Mac and Windows
RATING: 4 1/2