Olympus E-620
LIGHTWEIGHT, COMPACT DSLR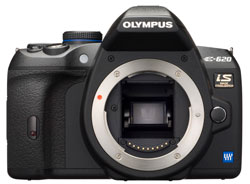 The 12.3-megapixel Olympus E-620 is one of the lightest, most compact DSLRs on the market. It succeeds Olympus's E-520 and inherits features from the higher end E-30 DSLR. The E-620 has built-in image stabilization that works with any Four Thirds lens, and an articulated 2.7″ LCD that makes shooting with Live View efficient. Buttons on the back are illuminated for easy identification in low-light shooting, and Olympus has added the E-30's wonderful Creative Art and Multiple Exposure filters to the E-620's conventional command dial. Curiously, the E-620 bucks a trend by not including video capture—a compelling feature in this very competitive price range.
The plastic body feels solid; however, it has no weatherproofing seals and the comparatively shallow grip might feel uncomfortable in big hands. The overall design facilitates familiarity via quick access to frequently used features. It uses dedicated buttons for features such as Live View and Image Stabilization, plus an onscreen superpanel provides all the options for features including white balance, metering, and image quality. To a great extent, scrolling through menus is eliminated.
The camera records in RAW and JPEG formats and has slots for CompactFlash and xD memory cards. The RAW format is supported in both Lightroom and Adobe Camera Raw. The E-620 and E-30 use the same Four Thirds Live MOS image sensor; however, the algorithms and digital engines vary and the resulting image quality in the E-620 files, although not terrible, contain comparatively more noise when shooting in either low light or ISOs greater than 800. In general, image quality is quite good, especially at ISOs under 800.
The files have a wide dynamic range filled with shadow and highlight detail, and hold up to make 17×22″ prints. The sensor offers a choice of four aspect ratios—4:3, 6:6, 16:9, and 3:2—and the cropped areas are displayed in Live View mode. The optical viewfinder is slightly larger than the E-520, but I found it difficult to see the information displayed at the bottom—something to consider if you wear glasses. The E-520's three-point AF viewfinder system has been replaced with a fast seven-point system that covers a wider area and provides for quick, smooth focusing. Continuous shooting is slightly faster at 4 frames per second versus 3.5. The five-mode metering system and shutter speed range of 60 seconds to 1/4000, plus Bulb, are the same as on the E-520.
The Multiple Exposure filter is a hoot. It allows you to take a shot and then view and compose another subject on the same frame, all while maintaining the original image onscreen.
The 2.7″ 230,000-pixel, articulated LCD facilitates composing subjects at low or high angles, greatly improving the functionality of Live View. It holds up relatively well in bright light. Displays in Live View include an alignment grid, a live histogram, and four live thumbnail previews of different white balance or exposure compensations to help you visualize your image before exposure. Live View offers three AF modes and appears snappier than previous iterations, but it's still no match for the optical viewfinder when shooting a moving subject. When using Image Stabilization (IS) with Live View, the stabilized effect appears only briefly on the LCD. I preferred the E-520's implementation, which held the stabilized image as long as you depressed the shutter button half way. Still, the E-620's IS is effective and compensated for movement up to about three stops—it was rock solid at 1/15 second. The E-620 is a budget-minded, solid, easy-to-learn DSLR.—Steve Baczewski
Company: Olympus America Inc.
Price: $699.99 with 14–42mm lens
Web: www.olympusamerica.com
Rating: 4
Hot: Built-in wireless flash remote; effective dust-removal system
Not: No video capture
Olympus E-620 images
Click on a thumbnail for a larger image. All images ©Steve Baczewski.