Olympus E-30
COMBINE MULTIPLE EXPOSURES AND ADD ART FILTERS IN CAMERA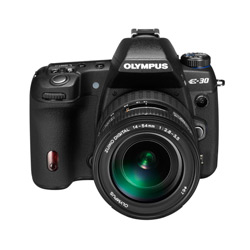 The new 12.3-megapixel Olympus E-30 is closer to their flagship 10.1-megapixel E-3 than their consumer-level E-520. The E-30 includes many of the E-3's best technological features, such as built-in image stabilization, dust-reduction, and a very fast 11-point autofocus system. The E-30 is less expensive, smaller, lighter, and uses a larger 2.7″ articulated LCD; however, it lacks the E-3's magnesium alloy, weather-sealed body and shutter durability.
The E-30 body is made of reinforced plastic. It feels solid and balanced with a large, secure, rubberized grip. At its core is a new 12.3-megapixel Live MOS sensor that uses an updated "plus" version of the E-3's TruePic III processor. It can process bursts of 5 frames per second (fps) RAW, and according to Olympus it can capture up to 12 shots max. In my testing, I was capturing between 14 and 16 shots. It writes quickly to free you up for the next shot. Instead of scrolling the menus, there are plenty of dedicated buttons for quick access to settings such as ISO, white balance, and (my favorite) the auto bracketing button that can set up to five frames, which HDR photography aficionados will appreciate. In addition, pressing the OK button quickly accesses a super onscreen control panel of important features in lieu of menu scrolling.
The E-30 has dual memory card slots and can hold either CompactFlash or Olympus's proprietary xD-Picture Card, which is necessary if you want to use the panorama feature. It also includes an onscreen digital level that lets you adjust the camera's vertical and horizontal position to avoid crooked horizons.
The E-30 introduces the ability to make multiple exposures and adds six unique special effects Art Filters: Pop Art, Soft Focus, Pale and Light Color, Light Tone, Grainy Film, and Pinhole. These features are aimed at photographers who want to produce more spontaneous creative effects in the field. In conjunction with Live View, you can compose and tweak these special effects using white balance and exposure compensation before making the exposure and processing. Although you can re-create any of these effects in Photoshop, the key here is that you can see the effect right away instead of blindly depending on postprocessing. I quickly grew fond of Grainy Film and the hyper-saturated Pop Art filters. My only hesitation is that special effects have a way of becoming a substitute for a lack of imagination—a gimmick.
Olympus's implementation of multiple exposures is first class. It allows you to take a shot and then view, superimpose, and combine up to three more exposures on the same frame, all while maintaining the original image onscreen. It's beautifully designed, except it's buried in the menus instead of conveniently being placed on the mode dial.
The design of Live View for the E-30 is the most practical I've used. It incorporates a live histogram for maximizing correct exposure, and an articulated LCD that can tilt and swivel away from the body, allowing you to capture scenes overhead or at ground level—something that isn't practical with a fixed LCD or viewfinder. This iteration of Live View's contrast detection focus system responds quicker than previous attempts. My only complaint is that the 230,000-dot resolution of the LCD is prone to wash out in bright light. The E-30 has an additional new feature that lets you compose with nine different aspect ratios and view their corresponding cropping frames on the LCD in Live View. It's a great convenience if you know your job calls for a specific aspect ratio.
I made several 17×22″ prints and found the dynamic range and overall image quality to be excellent. Noise became a factor above ISO 800. The E-30 is a well-designed, solid performer.—Steve Baczewski
PRICE: $1,299 (body only)
FROM: Olympus America Inc.
WEB: www.olympusamerica.com
RATING: 4.5
LAYERS VERDICT
HOT Responsive; picture quality; great macro capabilities
NOT Proprietary xD-Picture Card; excessive buttons