NTI Media Maker 8 Premium
ALL-IN-ONE SOLUTION FOR ALL YOUR MULTIMEDIA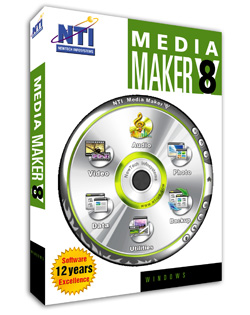 Media Maker 8 Premium by NewTech Infosystems (NTI) is an all-in-one CD and DVD burner for Windows users. It provides a suite of easy-to-use tools for creating and recording data (audio, photos, and video) onto CDs and DVDs, plus Blu-ray support for backups and creating data discs (but no Blu-ray video capabilities).
Media Maker 8 features a Video Converter that allows you to convert videos for playback on an iPod, PSP, Zune, and other portable video players. It also includes the NTI Photo Maker, which enables users to quickly import, edit, and share their digital photos and slide shows; the NTI Ripper for ripping and archiving music; and NTI Digital Jack for playback of music collections
All of these programs are opened from an application appropriately called Launch Pad. Many of the applications use a Windows Explorer-style view that allows you to drag-and-drop files you want burned or copied to a CD or DVD. Wizards, called EasySteps, guide you through the process.
Perhaps the most important part of this program is its full-featured backup package called Backup Now 5. It takes only a few minutes to set up a system of scheduled backups to a hard drive on the network. Backup Now 5 also provides disc spanning, so you can archive portions of a library across multiple DVDs. The selection setup is a simple procedure to select which files or file types to backup, or to selectively restore. So what backup devices does it support? The list is too lengthy to include in this review, but if you can record to it, Backup Now 5 supports it.—Dave Huss
PRICE: $79.99 (Upgrade $49.99)
FROM: NewTech Infosystems
WEB: www.ntius.com
RATING: 4.5
LAYERS VERDICT
HOT Covers every aspect of media creation and backup
NOT No Mac version